Guide to Playing Rummy Online
What is Online Rummy?
Online Rummy refers to the game of Rummy being played over the internet. You may be a pro at Rummy or maybe a complete novice. However, despite acing this game in real you may find online rummy to be an entirely new experience. If you are starting from scratch and want to reach the peak of mastering rummy in the web domain, then you have landed on the right page. We can provide you with all the strategies, resources and tips that you require to make real money from playing Rummy online.
Online casinos that let you play Rummy are quite easy to deal with. You do not have to download any software in order to indulge in the game. You just have to create an account and login to the website to play the game. Moreover, the websites have been optimized to run smoothly over 2G and 3G connections. Being powered with 4G would be like icing over the cake. The easy to use interface and superior graphics make online casinos pretty desirable for indulging in rummy online.
We are in an era where advanced technology promises convenience and whatnot. Online gaming provides you an Omni platform that you can access from anywhere and at any time you intend to. You can also indulge in the same game from your cell phone, tablet or laptop. The best part about online casinos is that the exchange of money is safe and secure. The only condition is that you register with a reputed and trusted platform. Another factor of convenience is that you can pay easily in INR instead of US dollars. You have control over your payment modes and the currency you intend to make payment with. Â
Where can I play Rummy for real money?
If you have googled for websites that allow you to play Rummy for real money, you must be aware that there are plenty of them. If you have accessed a couple of websites, you would have realized that a few are quite impressive whereas a few do not seem compliant enough. Then there are a couple of sites that offer excellent promotions but do not accept payments in INR.
If you are an Indian national looking to play Rummy online for real money, then here are some parameters that you must certainly look into for shortlisting Rummy websites.
Accept payments in INR
Compliant with international standards and safe
Customer service and support desk offered to Indian clients
Accept payments through popular Indian payment modes
Accept international currency
Allow game practice for free
Offer good promotional deals
A lot of research is needed to find the best websites for playing rummy for real money. However, it is not possible for an individual to do all the research on their own. My research team has immense expertise in this field and has already done extensive research on the subject matter. We offer you the best possible info on online rummy casinos on India based on our experience as gaming professionals and also based on our research.
You can scroll through the list of the sites that you allow you to play Rummy. Our extensive list will provide you access to the best of sites, unlike the ones that you usually find while searching on Google. Here is how you can utilize the website links to play rummy online.
Register on the suggested and trusted rummy websites
Furnish accurate information such as your name, contact details and other credentials requested
Provide accurate banking details for monetary transactions to take place smoothly
Complete all the KYC procedures requested
Log in to the online casino you registered with and start playing rummy
Basics of Rummy
Rummy is a popular card game that requires you to demonstrate real skills. You need to have the tenacity to learn the basics. Although luck would certainly be a governing factor, you can have much power in the game if you master the skills needed to excel in the game. You can certainly convert a weak hand to an upper hand by practicing a certain skill set.
Most of the online casinos in India offer a variant of the original game of Rummy. It is popular as "Paplu" amongst Indian players. This game can be played with 2-6 players. You can choose the deck of cards accordingly. A 52-card deck can be chosen if two players are playing. For a 6-player game, a deck of 52 cards should be chosen by each. It would not be wrong to call Indian Rummy as a cross between Gin Rummy and Rummy 500. Â
The basic goal in Indian Rummy is the same as in other popular variants. You need to build a set from the cards available with you. Your goal is to build sets with cards in sequence or can be three of a kind. You can build a pure set with a joker. However, you can build other sets with a joker.
There are various strategies that you can master to excel in this game. They have been covered in this article for your convenience. We have also provided a section that covers the popular variants of Rummy game played in India. You can take a look at them and decide which variant you want to try your luck with. All this information provided to you is vital and will equip you to make a calculated move while playing the game.
Is Rummy legal in India?
The gambling laws in India have not been clearly defined. The laws governing such activities are currently really old. However, no matter what the case is you can safely play Rummy online in India. Before jumping directly to Indian laws, it is vital for you to understand the actual meaning of gambling as per the legal definition. Indian laws have defined gambling games into two broad categories. One is games based on skill and the other is games based entirely on chance.
There are restrictions on games of chance such as Baccarat and Roulette as per the Indian laws. However, you can indulge in games of skills for either free or for money. Rummy and Poker are categorized as games of skill and hence can be played without any concerns. You can also look into the 1967 ruling by the Supreme Court of India. The ruling states that Rummy has been excluded from the category of gambling games as it requires you to demonstrate skills.
The legality of playing Rummy in India:
The legal strictures framed for gambling in India are quite vague. This is because of their archaic nature. However, needless to say, playing Rummy online is still legal in India. To understand the legality of online gaming in India, one needs to understand and differentiate between the legality of playing games that require "skill", vs. legality of playing games that depend upon "chances".
Games that depend upon "chance" (such as Baccarat, Blackjack, Roulette, etc.) are strictly forbidden under the Indian gambling laws. However, games such as Poker and Rummy require skills on the part of the player. Thus, such games are legal in India. A ruling in 1967 was made by the Hon'ble Supreme Court of India that ensured that Rummy was excluded from the tag for "gambling' games in India. It is highly recommended to learn more about such legalities of gambling online in India, which could be found on our site as well.
Basic Rules of Online Play Rummy
The standard rules of Rummy still hold the same even in the Indian variants of the game. Here are a few terminologies to be acquainted with to play the game:
A pure sequence is formed when 3 or more consecutive cards of the same suite are grouped.
A second sequence is similar to a pure sequence but includes a Joker or a wild card.
A player can draw a card from the pile of the closed deck
A player can discard a card upon the pile of stacked cards called the open deck
A declaration is made when at least one pure sequence is formed along with a second sequence or set of groupings made. This marks the end of the round and the players still holding cards in their hands will be awarded some loss points based on the face value of the dealt cards.
A closed deck is faced downwards and the next card is unknown to all the players. An open deck is faced upwards.
A buy-in is a wager required to enter a match of Rummy (typically used in entering a Rummy tournament).
These are the basic terminologies that one must be acquainted with at all times, before playing Rummy. However, to learn more about the rules involved in the game, an in-depth guide is also provided in the below section.
Some Basic terminologies in Online Rummy that are must learn
Before anyone attempts to start playing Rummy, one must be acquainted with the terminologies used in the game. Here are a few that might come in handy:
Rummy table – As like the name suggests, the table on which Rummy is played in. In the case of online casinos, it could either be a virtual table or could be a table that is broadcasted live.
Joker and Wild Cards – These are the cards that are selected at random at the beginning of the play. These cards could be used to substitute for any card in an impure sequence or a set, to complete them. It, however, cannot be used in a pure sequence that is mandatory while making a declaration.
Drawing and Discarding cards – There are 2 decks used in the game of Rummy. One is called the open deck (facing upwards and can be viewed by the players), while the other is called a closed deck (facing downwards and players cannot view the next card on the pile). 13 cards are dealt with the players at the beginning of the game. Players can draw a card from the closed deck and subsequently discard a card on the open deck pile.
Sorting and arranging: Arranging the cards in a particular sequence or a set, can be termed as sorting of cards. It is done throughout the game until the player can make a declaration and win the game.
Dropping in Rummy: Players have the liberty to opt for the game at any point in time. This is known as dropping. There are subsequent loss points awarded based on when the player exits the table. If left in the beginning, the points awarded are 20. If in the middle, then 40. If done at the end, then 80 is awarded.
Detailed Guide on How to Play Online Rummy?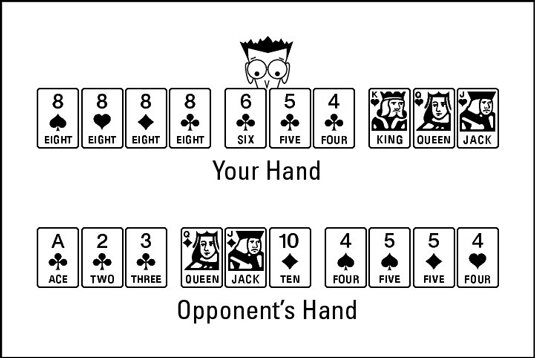 The basic rules governing the game of Rummy are quite simple. There are certain terminologies that you must first understand before indulging in the game.
The ultimate goal for any player to win the game is to arrange the 13 dealt cards in proper sequence or sets. This can be done by arranging them in a minimum of 2 sequences. However, to win the game, one of the sequences needs to be a pure sequence. The other groups of card arrangements could be either a valid sequence or could be a set as well.
Pure Sequence
A pure sequence refers to a group of three or more consecutive cards belonging to the same suit. Joker cannot be considered while forming a pure sequence.
In an ideal game of Rummy, players need to make sets of sequences with the cards that are dealt with them. Sequences are 3 or more consecutive cards that follow the same or different suites. Based on this differentiation, a sequence could either be named as a 'pure' sequence or an 'impure' sequence. A pure sequence is a must to win the game.
Defining a pure sequence:
Any sequence (or a group of cards) that is constituted of 3 or more consecutive cards, and belong to the same family of a suite, can be defined as a pure sequence. However, the Joker and the wild card should be excluded out when making this sequence.
The following examples might help in understanding a pure sequence:
1. Heart suite cards with a face value of 2, 3 and 4 (pure sequence with a minimum of 3 consecutive cards of the same suite. Note that the Joker and the wild have been excluded out)
2. Spade suite cards with a face value of 5, 6, 7 and 8 (pure sequence with more than 3 consecutive cards of the same suite. Yet again, no Joker or wild has been used)
Defining an impure sequence:
Any sequence that is made of consecutive card numbers following the same suite of the cards, can be deemed as an impure sequence. However, this time, a joker or a wild could be used within this sequence as well.
The following examples might help in understanding an impure sequence:
1. A set of Heart suite cards (5, 6 and 7), followed by Q diamonds. Here, the Q of diamonds acts as a Joker that replaces the 8 of Hearts, thus completing the sequence of 5, 6, 7 and 8 of Hearts.
2. A set of Spade suite cards (2, 4 and 5), followed by K of Clubs and a Printed Joker. Here, the King of Clubs acts as a Joker to replace 3 of Spades, while the Printed Joker replaces the 6 of Spades to form a complete sequence of 2, 3, 4, 5 and 6 of Spades.
Sets
Apart from sequences, players can form sets of cards as well. 'Sets' are groups of cards that have the same face value but could belong to different suites of cards. The following examples might aid in understanding sets:
1. Ace cards of Heart, Clubs, and Spades (set of 3 cards)
2. King cards of Heart, Clubs, Spades, and Diamond (set of 4 cards)
3. Queen cards of Heart, Spades, and Clubs, followed by a King of Heart (here, the King of Hearts acts as a Joker)
4. 5 of Diamonds, Spades, and Clubs, followed by a Printed Joker (here the printed joker replaces 5 of Hearts in the set)
5. 5 of Diamonds and Spades, followed by a Q of Hearts and a Printed joker (both the joker and the printed Joker can be used simultaneously in the set)
6. A second wild card might also be used to complete the 13 card grouping
Strategies
Although Rummy may seem to be a game of chance, you can develop the necessary skills to ace the game with enough practice. Here are some tips and tricks that you can practice and master to have an upper hand in the game.
Rummy is not always all about "chances" and "luck". To win a game of Rummy, a player will have to implement some skills as well – which are only learnt after thorough experience through practice. The go-to step when approaching Rummy is to form a pure set at the beginning of the game. This allows the player to complete the minimum requirement needed to make a declaration at the right moment.
The idea is to bluff the opponent as much as one can, without giving away any clues to them as to what you are aiming for in the game. Thus, it is essential to choose what to discard away on the open pile as well. Aim for discarding excess cards from the pure sequence and picking up cards that help in forming triplet sets, to bluff your opponents.
One can also bluff the opponent into believing that he or she doesn't want to form a sequence using a specific suite. This is done when one wants a particular card that he or she might suspect it to be with one of the opponents. In that case, discarding a few cards away from the particular suite might help the opponent believe that the player doesn't aim for any card sequence of that particular suite and might make them discard the right card for the player.
A good practice is to stop hoarding excessive cards, namely high ranking cards with greater value. Instead, it is better to use Jokers to form triplet sets of high-value cards. This way, if the player loses the match, he or she wouldn't have to bear too many loss points at the end of the game.
After having dealt the hand, your topmost priority needs to be to form a pure set. As long as you have a pure set of four cards present in a sequence, nothing else would matter
Whenever you pick a card from the pile of discarded cards, your opponent gains an idea of the card that you need to complete your set. You can utilize this opportunity to bluff your opponent.
There are times when you may need a card to form a sequence or triplet. If you have the hunch that your opponent has that card, then you can trick your opponent by dropping the card from that suit. This will trick them into thinking that you do not need cards from that suit to form a set. This will eventually let them release the card that you actually need.
Do not make it a habit to store cards in your hand. It is best to discard high-value cards that are not needed to form a sequence.
One of the best things to do when you get your hand is to arrange the cards sequence wise, suit wise and rank wise. This makes playing the game much more convenient.
Utilize joker to form a sequence with high ranking cards
Some tips to gain an advantage in Rummy:
Here are some essential tips to learn and gain some advantage against competitors, in a game of Rummy:
It is good practice to form a pure sequence at the beginning rounds of the game. This allows players to be ready to make a declaration only after the minimum criteria is met
High-value cards (Ace, King, Queen, and Jack) should be avoided and discarded, since they might add on to points if one is to lose the game. Instead, wilds and printed Jokers could be used.
If possible, one should avoid picking up from the discarded pile. It might give other players a hint of the possible sequence or set that a player is probably aiming for.
One should always be looking out for smart cards.These are the cards that could be used to form more than 1 possible set (e.g. 4 could be used to complete a set of 2/3/4 or even 4/5/6)
Always ensure to check the cards before making a declaration. Sometimes, a mistake might cost the game to the player.
Winning potential in a game
The rules in the game of Rummy are quite simple. Even the rules associated with offering payouts are quite simplistic. The only tough part is developing the skills necessary to win over the opponents. Under this section, the point structure usually followed by most of the rummy sites online has been discussed.
The cards A, Q, K, and J carry ten points each. Other cards award points as per their face value. Joker does not carry any points. Once the game has been called off, the hand score would be estimated. The winner will be awarded a sum of hand score of losing players multiplied with the monetary value for each point. If the losing hand does not consist of any pure sequence, then the value of all the cards would be added up.
Variations of the game
There are some variants of the game of Rummy that are popular in India. They are
This is the most basic variant of the game of Rummy in which the monetary value associated with each hand is estimated beforehand. The player who finishes first and has the required sequence set wins the game. The payout in this game is the sum of points scored by all the opponents multiplied with the monetary value associated with the single point.
The rules in this variant of Rummy are more or less similar to Points Rummy. The only factor is that the numbers of deals in pre-decided in the game and is fixed. For instance, in a 3-deal rummy, the winner is the person with the highest points and is declared after three deals. The payout offered is similar to that of Points Rummy.
In this variant of the game, the exit criteria are pre-decided. For instance, the player to accumulate 101 or 201 points will have to leave the game. Then the game continues with the remaining players and goes on till a winner is left. Others have to exit if they reach 101/201 points first.
There are several other variants of the game of Rummy played in online casinos in India. They are basically the tweaks of the variants discussed above.
The Rubrics of Rummy:
Unlike most other card or table casino games, Rummy requires a lot of skill on the part of the player to win the game. Luck plays a significant role since the player will have to depend on it to pick good cards. However, players need to rely upon their skills quite substantially to gain an edge over their competitors.
In the Indian context, Rummy is recognised with another name – "Paplu". It can be considered as a different variant and a cross between the 2 very well-known games – Rummy 500 and Gin Rummy. In Indian Rummy, a 52-card deck is used only if 2 players are involved in the game.
Irrespective of a different variant of the game according to the Indian context, the rules of the game still hold the same, in here as well. However, to develop some serious skills, one needs to learn about tactics and strategies as well. We provide you with more of the tricks and tips that could be used in an ideal round of Rummy. Along with that, there are some different variants of Rummy that is enjoyed pan India. Read on further to learn more about these variants as well.
Playing Rummy Virtual or Live
If you are an experienced card player, then you must by now have felt what it would mean to play the game of Rummy in real. However, there exists a lot of difference in playing this game in reality and virtually. For instance, if you want to spend a Sunday afternoon playing rummy with your friends, then you will have to put in a lot of effort in checking for their availability, fixing a place, time and waiting for everyone to show up. This not always work as coordination is quite a cumbersome activity. Instead, you can turn to the virtual world and play rummy online instead. You can ask your friends to join the game online anytime and from anywhere provided they have a mobile phone and working internet connection. This is much more convenient and you will not have to wait for a Sunday afternoon to play with your friends.
Live Gaming
You can play live rummy in online casinos. All you need to do is register with the casino offering rummy for Indian players. You can ask your friends to tag along. You can fix a time and log in whenever and from any device, you are comfortable with. You can play Live Rummy from your personal computer, mobile phone or your tablet. Even a 2G connection would be sufficient to experience live gaming.
You can join with your friends in a live room where you will encounter a live human dealer. The person will deal with the cards for you. The software will take care of the rest. Actions such as cutting and shuffling can be managed by the players.
Virtual Gaming
Virtual gaming is quite a different experience. In this kind of gaming, you can access the rummy website, register and ask your friends also to do the same. However, the cutting, dealing and shuffling are managed by the software and you do not have any role in it. You will be subjected to a 3D animated environment instead of a real live gaming environment. This is the kind of environment that you usually encounter in Rummy offered in Google App Store or while playing Jungle Rummy.
You do not have to be disheartened, as the gameplay is not any different. You will still be creating a sequence, discarding cards and deciding whether to declare or not. The best thing is that as the game is taking place in a random fashion, there is no place for any sort of trickery while playing a virtual game.
Playing Rummy for Free vs. Real money
You would obviously have a conflict of mind and heart while deciding whether to play the game of rummy for free or for real money. The rush of making real money will certainly push you towards indulging in rummy for real money. You need to go with your heart. But first, make sure to master the skills in the game. This you can do for free. Once you are sure that you can take a chance, you can go ahead and play for real money.
It is always best to master your skills by playing rummy for free. You can try different variants of the game and develop your skillset before betting for real money. Eventually, you will end up mastering the game. Rummy is an incredible game of cards. With consistent practice and mastering tips and tricks, you can make real money from casinos.