Roulette is by far one of the most widely played casino games all around the world. Though it might seem a little too complicated for beginners with all numbers, colors, a plethora of rules, bets, and innumerable probabilities. The game is not that difficult and for sure a hell of a lot of fun to play.
It requires sheer luck, a few tricks, and a good understanding of Roulette bets to rule the game. If you're one among those casino enthusiasts who stick to simple slot games but wish to try your luck in Roulette, this article is for you. Stick to the end to learn the ins and outs of the ever-so-popular table game, Roulette.
A Brief History of Roulette
Roulette has been around for ages and its exact origin is unknown. There have been many similar table games that resemble Roulette since the 17th century. The standard version of Roulette that is practiced today was formed by well-known Mathematician and Physicist, the french mastermind Blaise Pascal. The first version of the game was devised by Pascal back in 1655. Pascal came up with the Roulette table as an experiment for a perpetual motion device. One such machine/device continues to work without needing energy from any external source. It was not the intention of the great Scientist to develop a table game. It was the consequence of a failed experiment. Nevertheless, a failed experiment that gave the world the most widely played table games for years to come.
The literal meaning of the word "Roulette" is a little wheel. The game was named after the fact that it was based around a spinning wheel. The modern-day version of Roulette is all about a spinning wheel, colourful numbers and innumerable probabilities. It has been the basis of the game ever since its inception. During the 18th century, the game already had two versions. But it was not until the French Revolution that the game became a hot favourite in casinos worldwide. In 1843, two Frenchmen, Francois and Louis Blanc came up with a new version of the game that was termed, French Roulette. This version has just one pocket numbered zero instead of two zeroes or two coloured pockets. This was a great idea to lower the house edge and attract more gamblers to enjoy the game.
The game gained immense popularity in Monaco before reaching the US. In the USA, there were no major changes in the game pattern. However, after a while, the game developed two major variants that are widely played all over the globe, viz, American Roulette and European Roulette. The major difference between the two variants is the number of zeroes on the Roulette wheel. At present, Roulette can be found in all big and small brick and mortar casinos worldwide. Moreover, Roulette is one of the most sought after games in the world of online gambling.
How to Play Roulette and Win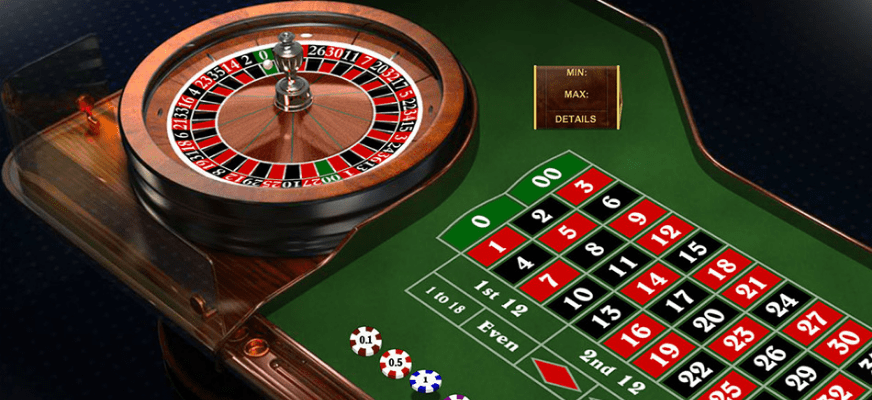 First, you have to find the best platform to play this game. In India, you can play a roulette game on the Lottoland platform. Contrary to popular beliefs that Roulette Game is too difficult a game to master, it is fairly easy to grasp the rules of the game. The setup of the game seems complicated to a beginner with all the numbers, colors, a plethora of bets, and the giant spinning wheel. However, it is as simple as choosing a number and/or color and placing a wager on it. To do so, you need to place the chips on the betting table. The dealer then spins the wheel with a Roulette ball spinning in the opposite direction to the wheel. When the ball runs of our juice, it lands on a number on the wheel.
If you've placed the bet that favors the number or color of pocket that the ball has landed on, you win. And you keep pacing the wager chips and spinning the wheel for as long as you wish to play. There are various ways of placing a bet. You can choose a certain number or make a bet on an even or odd number of red & black color or high (19-36) or low (1-18) numbers. Moreover, there are added betting options based on zero pockets. Depending on the variant of Roulette you're playing, the number of zero pockets and betting systems differ. Let us learn how to place a bet in Roulette.
Roulette System
Quintessential to place a wager, you need to place the chip on the betting Roulette table. Chips are of different colors based on the stakes that you're playing for the type of bet that you're going to make. Each table has a minimum and maximum bet amount that varies from casino to casino. The two main types of wagers in Roulette are Inside bets and Outside bets.
The minimum betting amount for different types of wagers is fixed. However, it works in different ways for an outside bet and an inside bet. When you're making an inside bet, your total of all the possibilities made via the bet should match the minimum amount. Whereas for an outside bet, you are obliged to place a minimum table bet. Let us learn more about Inside and Outside bets to get a better idea of how bets work.
Inside Bets
All best that are made by putting the chip on the inner section of the table are called inside bets. Such bets offer a higher payout as compared to outside bets. However, there are fewer chances of winning. Thus such bets are called high-risk bets. Mostly, experienced players who understand the game completely make inside bets. You must be willing to take risks while playing such bets. The following are some of the inside bets:
Street Bet: The wager is placed at the end of a row with 3 numbers appearing in the row, the payout is 11 to 1.
Straight Up Bet: The bet is placed on a unique number, the winning pay is 35:1.
Five Bet: These are accessible on the American variant only. This bet revolves around 5 numbers 0, 00, 1, 2, and 3. The betting chip is played for 0 and 1. The winning payout is 6:1.
Split Bet: It is like a double straight-up bet, the wager is placed on two adjacent numbers, the payout is 17:1.
Corner Bet: The wager is placed on the corner where 4 numbers are present with a payout of 8:1.
Line Bet: The bet is placed at the end of the two rows containing 3 numbers each. The winning payout is 5:1.
Outside Bets in Roulette
These are low-risk bets meaning that there are better chances of winning. However, the payout is not that exciting as in Inside bets. These bets are perfect for beginners as they involve less risk and lets you play for a longer duration without emptying the bankroll. Such bets are placed on the outer part of the Roulette table. Instead of playing for a certain number, you place a bet on colors or types of numbers. The famous rules La Partage and En Prison are part of outside bets and apply when the ball lands on a zero. The following are some of the outside bets:
Dozen Bet: It lets a player bet on 12 numbers for one round. The winning payout is 2:1.
Bet on Colour: This is the simplest Roulette bet where you place the wager on one of the colors among Red and Black. The winning payout is 1:1.
Bet on Low/High: It is a way of placing a wager on either all the low numbers (1-18) or the high number (19-36). Again, the winning payout is 1:1
Bet on odd/even: One such bet lets you place the wager on either the odd number or even number. Again, the winning payout is 1:1.
Special bets
There are a few additional bets in Roulette that are not allowed on every table. These special bets are termed called or announced bets. Called bets are mostly practiced in French Roulette. These are based on a certain section relating to zero pockets. In the UK and many other countries, announced bets are banned. An announced bet lets you play for a larger section of the wheel.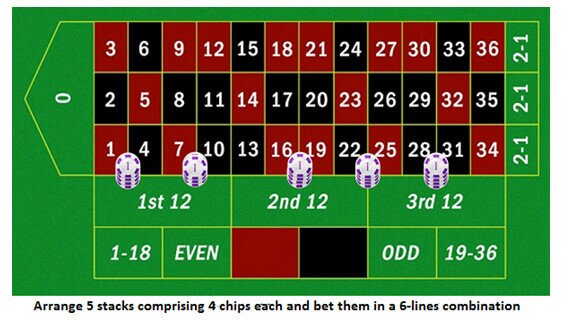 Roulette Tips and Tricks
Roulette is a game that requires sheer luck, a bit of a trick, and a good understanding of the rules for you to win. Here are some top tips that you must know before trying your luck on that spinning wheel of fortune.
Watch out for the house edge
The house edge in Roulette varies from version to version. For instance, the American variants of Roulette have an additional zero on the table. This significantly increases the house edge and therefore, reduces your chances of winning. On the other hand, European Roulette has a lower house edge and provides you with better chances of winning. If you are a beginner and not too keen on playing the American version, it is recommended to try your luck with the French or European variant.
Roulette is such a fun game to play and with several high-risk betting options, it is easy to empty your bankroll. Especially if you are a beginner, you must understand that the game offers very tempting payouts. But the chances of winning are really low.
Therefore, when you know that it is not your day, stick to low-risk bets and focus on not losing too much money. Play for little money so that you last long and hopefully win something back. The house always has an advantage over you and in the long run, they are more likely to win your money. Therefore, if you have hit a mega payout, you should call it a day instead of playing for more money.
As mentioned above, the game is so much fun and tempting that it is quite easy to lose your senses. Especially for beginners, you must take care of your emotions getting the better of you. It has been observed in Roulette that players cashing in more money when they have lost already in the hope to win it all back. You must not let it happen.
The whole point of gambling and casino games is to win money from gamblers. Similarly, if you have witnessed the ball landing on a particular number or color frequently, it is no guarantee that the same will happen again. After all, it is all luck. You need to make smart decisions when it comes to placing wagers without getting sidetracked by your emotions and greed.
Strategies to Win at Roulette Online
Of course, the game depends on your luck more than anything. However, there are a few basic strategies that you must be familiar with to make the most of your luck while playing Roulette Online. These strategies are basically a guide on what bets to choose and how to wisely manage your bankroll.
It is advisable, especially for beginners to place outside bets. However, these bets have a less exciting payout. But they offer a great chance of winning. These bets are fun to play and a safe approach to the game. Inside bets are very tempting due to the high payouts they offer. However, the chances of winning are very sucking. Outside bets let you play for longer while maintaining the bankroll and offer better chances of earning a good profit in the long run.
This is one of the most practiced strategies in the game. The reason for its popularity is the fact that it is easy to implement. According to this system, you double the amount of bet every time you lose a round in Roulette. The motive to do so is to win your lost money back and earn a profit.
This system should be practiced with even paying outside bets only. When you win a round, according to the Martingale system, you should place the same bet for the next round. This strategy is a sure-shot way to keep your bankroll intact for a long duration. This also presents a player with an opportunity to earn a significant profit.
This strategy is a complex one, It is based on the famous Mathematical number sequence called the Fibonacci Sequence. The sequence works in a way that the next number in the series is a sum of the previous two numbers. The Fibonacci sequence goes like – 1, 1, 2, 3, 5, 8, 13, 21, 34 and so on. This sequence was founded by a great Italian mathematician named Leonardo Bigollo in the 13th century.

It works pretty much in a similar fashion as the Martingale System. The only difference is that in the Fibonacci system strategy, you do not double the amount of losing bet instead you calculate the next bet based on the Fibonacci system. For instance, if you start with a $10 bet and lose, your next bet should be worth $20. If you lose again, your third bet should be worth $30. Followed by $50, $80, and so on. If you win the bet, you go back to the initial amount that is $10, and start playing. This strategy is a safer approach than the Martingale system where you can lose more money on a losing streak than you would in the Fibonacci strategy.
This again is a negative progression system meaning that you raise when you lose and you and lower when you win. This is the easiest strategy to grasp and implement. According to the D'Alembert System, you add one unit to the initial bet when you lose and lower one unit when you win one round. Therefore, if your bet was $2 and you lost, your next bet should be worth $3. In case you win, your next bet should be worth $1. This strategy works well with even paying bets. It might not be as effective as the other two aforementioned strategies but it works well for beginners.
The best tips that beginners must remember to rule the game of Roulette
Roulette is a game that requires sheer luck to win. One can never predict the results of a spin.
There is a minimum betting amount set for every table. Moreover, the minimum amount can vary for inside and outside bets on the same table.
You can make multiple bets for every round. This equally increases the chances of winning and chances of losing.
Every bet has a different winning pay with it. While some bets have a payout of 1:1, others pay 35:1.
There are two popular variants of Roulette namely American Roulette and European Roulette. Beginners should play the European version since it has a lower house edge that offers better chances of winning.
You might use any Roulette strategies to make the most out of the day. However, there is never a guarantee of what results would a next spin bring.
Lastly, you must remember to have fun all along while playing Roulette. The game is really interesting and offers a lot of possibilities. If you are unable to visit a brick and mortar casino, you might enjoy Roulette at online casinos. Go, have fun trying your luck on the spinning wheel of fortune.