Online betting sites offer bonuses and "boosts" that you won't find in land-based casinos. Part of the thrill of signing up to a new sports betting site is what bonus you can hope to win as a signing bonus. Regular players are also.
There are indeed attractive offers betting sites put out to punters to attract them. But there's almost always some fine print or conditions that you should keep an eye out for. Bonuses are not always the free gifts they seem to be!
There are a few different types of bonuses that you can expect to find at sports betting sites such as cricket . Knowing about them will prepare you for your session online. You can look for these bonuses under Promotions, Current Offers, Bonuses and other similar headings.
Sign-up Bonus

New players are drawn into betting sites with a welcome bonus or sign-up bonus. If a betting site is urging you to create a new account with a bonus, they'll be sure to announce it with great fanfare on their homepage.
Now, there's not just one kind of welcome bonus. Bookmakers usually use a few different kinds of bonuses, usually within a limited period of time. So there's the time pressure to add to the thrill of your first bet. If you don't use your bonus in the time prescribed, you'll forfeit the bonus.
Most sites offer free bets or a match up bonus to welcome new players. But you could find other types of sign-up bonuses as well. Note that you'll need to set up your payment method to use your sign-up bonus.
Your winnings from free bets are usually paid directly into your cash balance, minus the initial free bet amount. It's unusual for any additional conditions to be attached to your winnings from a free bet.
Betting requirements
Before you can place a bet, a betting site will expect you to meet certain conditions. You'll find the conditions usually starred or with a fine print at the bottom of the page.
It will usually be a minimum deposit amount or a certain off, or a certain time frame to use your bonus in.
The common betting bonuses you'll come across as you navigate through sports betting sites can include free bets, deposit match up, welcome bonus, price boost, reload bonus and rollover.
Free Bets

New players are often awarded free bets for signing up, though it's not unusual for regular players to enjoy free bets sometimes. If you've wagered on a specific off, you could claim a free bet. In the example above from Betway.com, the betting site offers a free bet worth ₹500 every time you spend ₹500 on a multiple bet.
That means, every time you spend at least ₹500 on a double or higher bet in a week, Betway will credit you with a ₹500 free bet through their Free Bet Club promotions.
It is a typical formula of free bets. The bookmaker will indicate what odds you need to bet on and the amount you need to wager to claim your free bet. Usually, a free bet will be allowed on any sports at the site.
Deposit Match Up Bonus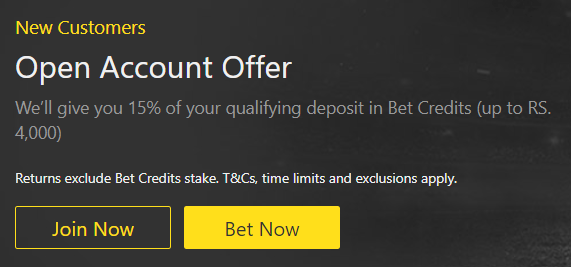 Betting sites often match the first deposits of new players and offer it up as a bonus. They may match the first deposit with a 100% match bonus. Or there may be a certain percentage offered, upto a certain amount.
For example, Bet 365 will match your first deposit with a 15% bonus up to ₹4000. So if your first deposit is ₹10,000, you get a deposit bonus of ₹1500 to play with.
But when you look deeper into the terms and conditions, you'll see an additional requirement.
The deposit minimum is ₹400, against which you can claim your bonus within 30 days of setting up your new account. But the bonus will be awarded to you as bet credits.
Before you can use these bet credits, you'll need to place qualifying bets of 12 times your qualifying deposit. In other words, for a ₹10,000 initial deposit, you'll need to place a total of ₹1,20,000 before you can claim your bet credits for use.
You can use your bet credits on any sport on the website.
Money Back
This win-win bet is well known in the world of sports betting. You can bet on a certain amount, and if you lose, the bookie returns your money.
There are usually no direct wagering requirements with this type of bonus. But there are certain conditions attached to the money-back bonuses. For instance, you may not get your money back as withdrawable cash but as free bets.
Price Boost

Price boosts are usually offered to regular punters on betting sites. These bonuses may be provided daily or monthly. They may also be provided at the start of a new league. If your team wins, the price boost bonus lets you increase your sports betting payout.
In the example above from Betway.com, if you bet ₹200 on Rohit Sharma and KL Rahul both hitting a six and you win, you're awarded a price boost payout of ₹700.
Daily price boosts often reset every 24 hours. So the next day, you'll be able to increase your wager on a different sport. Note that these boosts are on odds, so you must boost your odd to use it when you cash out your winnings.
Reload Bonus

Reload bonuses are for regular punters, incentives to keep you interested on the site. IN the example above, 22Bet is offering a reload bonus of 100% of your deposit amount.
Usually, reload bonuses are between 10% and 50%. Bookmakers may also specify a minimum deposit you need to make before you can claim your bonus.
Once you deposit 1 USD on the site, you'll get an additional 1 USD to use on any sports on the betting site. Always be sure to read the fine print below for further conditions.
Rollover Bonus
Rollover bonuses come with a certain amount of minimum wager requirements for new players. If you've wagered the number of rollovers required, you can then go ahead and claim a rollover bonus.
The rollover bonus usually comes with a percentage bonus of 50, 70 or 100 per cent. Bookies may offer rollovers of 3x, 5x, 10x etc.
There's a simple formula to calculate a rollover bonus.
(Deposit amount + % of bonus) x no. of rollovers = amount you need to wager
For example, suppose a site offers a 5x rollover and a 50% bonus. If you wager ₹1000, your bonus will be ₹500 and your total balance ₹1500. For a 5x rollover, you'll need to multiply your total account balance.
(₹1000 + ₹500) x 5 = ₹7500.
So, in the example above, you'll need to wager ₹7500 before you can claim your bonus.
Other bonuses
To keep things exciting, betting sites will also offer other types of bonuses. These can include Events bonuses on special occasions and events, Bet of the Day, Combo Boost, Betting Insurance, Tournament bonuses etc.
There is a huge market for sports betting that's growing at a fast pace. Bookies like to woo punters and keep them interested with a host of different betting bonuses.
If you're a new signee on a betting apps, check out all the betting bonuses available for new signees.
There's bound to be something attractive to you. Regular players can also keep an eye on the promos that sites offer to keep you coming back.