RummyVilla – a Fair Online Rummy Website
As the name implies, RummyVilla is a rummy game platform. Powered by the popular 'Grid Logic Games Pvt Ltd', Rummy Villa is a trustworthy platform. As far as authenticity is concerned, rummy is a legal game in India. All you need is the right skills and the basic knowledge of the game's rules. That's it! You can get started with Rummy only at Rummy Villa and earn handsome bonuses and cash prizes.
For the beginners, RummyVilla allows you a chance to familiarise yourself with rummy by playing the free version. The process of registration on the platform is quite simple. There is no security deposit or registration fee. Choose from free or paid games and spend some fun time.
Playing and Earning Money at RummyVilla
As said before, Rummy Villa is powered by Grid Logic Games Pvt Ltd. The company holds the valid certificates issued by iTech Labs. Here are some advantages of playing at Rummy Villa:
All games have fast loading speed and are super easy to learn and play
The games are backed by advanced technology
The website offers an Auto Play feature for better user experience
RummyVilla welcomes its users with a wonderful and easy-to-navigate User Interface
The company is offering a secure, 100% licensed, and responsible platform for gambling enthusiasts.
VIP players (who cross a specific level) get a chance to enjoy special privileges.
RummyVilla offers rummy in a variety of formats including the Indian rummy version. Users can choose the one that suits their requirements.
Payments and withdrawals at RummyVilla are super safe and easy.
Considering the players' convenience, RummyVilla has developed the official mobile app. Users who wish to play rummy anytime and anywhere can download the mobile app and enjoy the game on smartphones.
Should users have any doubts, they can contact RummyVilla's support department that offers round the clock services.
RummyVilla has amazing promotional offers and exclusive deals for new and existing players
How to Download RummyVilla Mobile Application
As mentioned before, Rummy Villa is available on your browser and Google Play Store and App Store. Whether it's a lunch break at the office or a boring trip, you can access the mobile app of RummyVilla and earn some extra money while having the best time.
Unlike other gambling websites, joining RummyVilla is a simple and cost-free procedure. Here are the steps to signing up on the website:
Type 'https://www.rummyvilla.com' on your browser
In order to register on the website, you will have to provide a unique username, password, and email ID. Users can submit their phone numbers as well (it is optional). Registration can also be executed using the active Google or Facebook account.
Once you are done submitting the required information, click the 'Register for Free' option.
As soon as you have registered, the company will share a mail and ask you to confirm the registration.
That's it! The registration and verification process is over. Now, you can access the Rummy Villa website from the browser or download the mobile app for a better experience. You only need to enter your login details i.e. username and password to access your rummy villa account.

Play Rummy Villa – Steps on How to Get Started
The best part about Rummy Villa is that it offers a complete beginner's rummy tutorial to the new players. Check out the gaming tutorial and learn all the rules. Basically, the game is quite similar to the offline rummy. But, it is still advised to have a look at the basic rules before getting started. Here's how you can play at Rummy Villa:
Enter your username and password to log into the Rummy Villa account
Deposit money to purchase chips (for those who are playing the paid game)
Pick a suitable table. Make sure that the table can only be left before the game begins.
When the game starts, the user gets 13 cards that need to be arranged in a specific order (the process is called melding).
The game continues until one of the players melds 12 cards in a proper sequence. The sooner you arrange the 12 cards the higher your chances of winning the round.
You can play as many rounds as you want. The final scores will be calculated at the end.
Once you are done playing, you can withdraw the money to your bank account.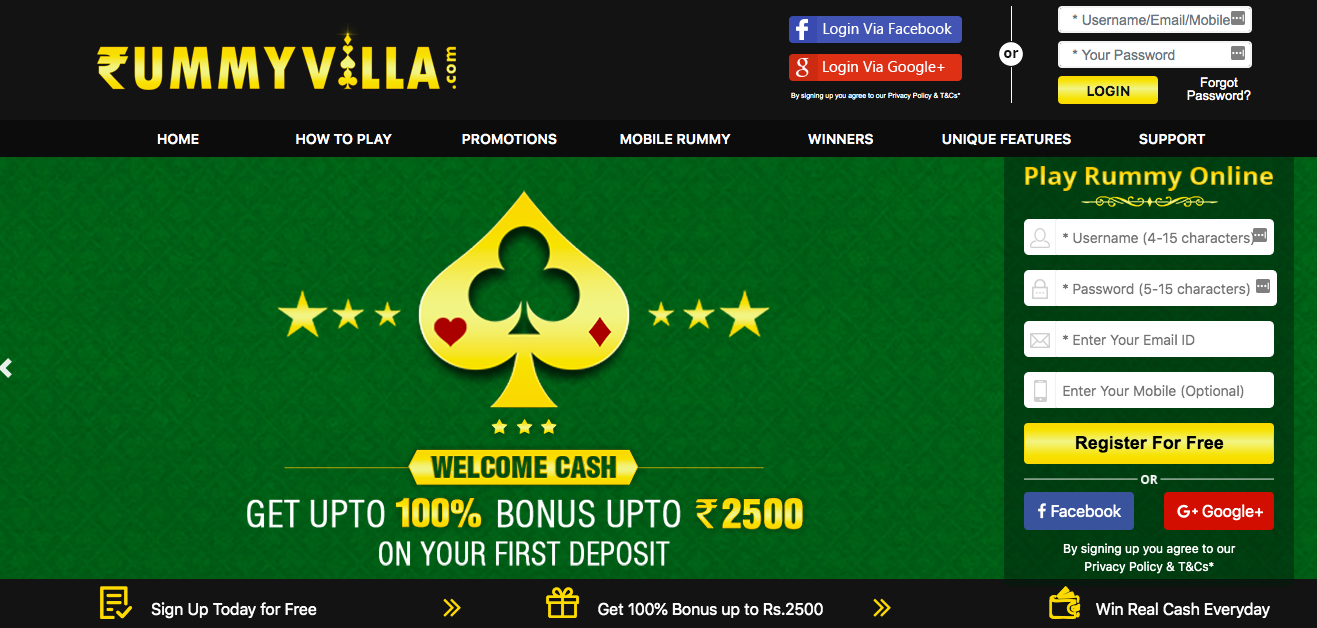 Why Register at Rummy Villa?
Rummy Villa offers a 100% bonus up to 2,500 INR for new players. Make your first deposit and earn a handsome bonus. You can use this bonus to purchase some chips for playing the game.
Get 24% bonus amount on all your deposits (after the first deposit)
Participate in the Rummy Villa's referral program and earn a 100% bonus of up to 1,000 rs. Make sure the bonus amount is only credited to your account when your friend makes their first deposit at Rummy Villa using your referral link.
Be a loyal player of Rummy Villa and win daily bonuses
How to Withdraw your Earnings on RummyVilla
In addition to the simple sign up process and a fast-loading website, RummyVilla is famous for its smoother deposit and withdrawal procedure. Here are some withdrawal tips.
Rummy Villa offers bank to bank transfer. It may take up to 4 business days for the payment to reflect in your bank account.
To proceed with the bank withdrawals, the user needs to submit their KYC details.
Users must deposit a minimum of Rs 1 in their wallets to initiate the withdrawal procedure.
You are only allowed to request 2 free withdrawals every month. Only 1 withdrawal is allowed in a day.
Fortunately, there is no processing fee charged by the company.
You can request a withdrawal on weekdays.
Minimum withdrawal amount should be 100 while the maximum limit is 10,000
Refer a Friend and Earn Program
Rummy Villa has a 'refer and earn' program, which allows the existing players to create their referral link and share it with their social media friends to earn some exciting rewards. Basically, you can share the link with your friend and earn a specific amount every time your friend registers at RummyVilla using your referral link and make the initial deposit.
The bonus is credited to your account in 10 chunks. Let's say your friend downloaded the app using your referral link and deposited 1000 Rs. Now, you will get a total of 1000 rs bonus. However, this amount will be credited in chunks. For example, you will receive the first 100 Rs on playing the game with an entry fee of Rs 1500. This way the whole bonus amount will be credited to your account.
Make sure that the referral bonus is 100% up to Rs 1,000. If your friend makes a deposit exceeding 1,000, you will receive a bonus of 1,000rs only (as it is the maximum bonus amount).
Promo Codes for Bonuses on RummyVilla
WELCOME100
RummyVilla offers an exciting welcome bonus to its new players. You can earn up to 2,500 Rs on your first deposit. All you got to do is make a deposit between Rs 100 and Rs 20,000 and use this promo code. The company offers a 100% bonus of up to 2,500 Rs.
KWIK15
KWIK15 is another promo code that offers a 15% Mobikwik Supercash received only when the deposit is made via MobiKwik wallet.
Customer Support Department
Rummy Villa offers 24/7 support to its customers. You can reach out to their customer support department through the mail. You can mail at [email protected] for general queries and [email protected] for escalation issues. Should you have any promotional queries, contact the support team at [email protected] Similarly, connect with the company at [email protected] for legal queries.
Final Words
With a hassle-free registration process and secure gaming options, it is safe to say that RummyVilla is a perfect option for gambling enthusiasts. Player's security and transparency is the major concern of the team. Join Rummy Villa and try some amazing Rummy versions. Play either free or paid version.
Win handsome money and access their exciting bonuses. Spend your free time playing your best rummy version only at RummyVilla.