Ace2Three Review
Ace2Three is the first website to offer an exciting range of Rummy variants to Indian players. The company operates globally and has grown to become the only gambling platform to offer the best and seamless online rummy experience. The company has developed its variants of rummy. Today, this Indian card game has become the most sought-after form of entertainment for people from all over the world.
The website welcomes the users with a whopping bonus of INR 2500. You could claim this bonus and use it for cash games. Ace2Three offers quite a few rummy games you could play for free or for money. Based on what you like to play, there are mainly two options for rummy lovers – pools game and points game.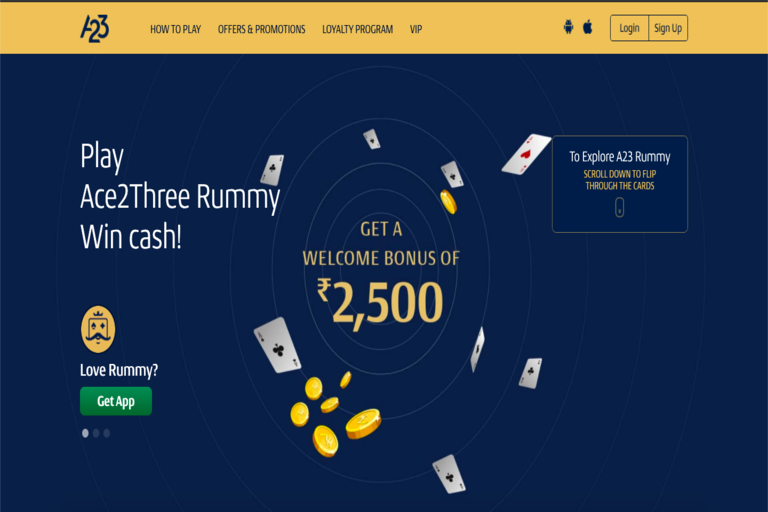 Ace2Three Rummy App
The card games have been played for years in India. While there are many apps for rummy available for Indian players, only a few are considered successful. Ace2Three is one such app that offers a flawless experience online. The app is the favourite of over 12 million users that play rummy for free and participate in cash-based tournaments that offer giant prizes. You could play rummy on the go on your smartphone and have the best time enjoying your favourite rummy variant from the comfort of your home.
Rummy is one of the classical card games that require skills and luck. The game is played between 2-6 players, and it is commonly known as Sequence. It involves two decks of cards containing jokers. Each player gets 13 cards that they have to arrange in a sequence to win.
Download the App
The developers have kept the interface quite simple and user-friendly just so you get the best experience playing rummy. Once you have the app downloaded on your phone, you could enjoy the classical rummy anytime and anywhere you want. In fact, you could play the game on the go. To download the Ace2Three rummy on your mobile, here's what you must do:
Call on 1800 123 9960 and get the invitation link through SMS for joining Ace2Three. Send your number to the official website of the company and get the APK download pack.
How to Install Ace2Three App on Your Android
Step 1: The download will start once you get the APK file, and you'll also get a notification once the app is downloaded.
Step 2: You may get a security warning message. The app is absolutely safe and there's nothing to worry about your privacy and security with Ace2Three. So, you can ignore the message and open the file.
Step 3: Open Settings > Security and enable the "unknown sources" button. The APK file will not be installed until you allow apps from third-party websites.
Step 4: Start downloading the APK file on your device.
Step 5: Once the app is installed, open the file and sign up. You could log in to your account if you had already registered before.
Set up an Account with Ace2Three
The company has kept the registration process quite simple so that users can enjoy a perfect experience playing their favorite game online. You could follow a few simple steps to start the registration process. Enter your username, password, and basic contact information. Once you have completed the registration, the casino will credit the welcome bonus to your account. You could claim the bonus, select your favorite variant, and start playing right away.
Information the Casinos Requires During Registration
You are supposed to submit your age, contact number, password, and other basic information to register an account with the casino. Your registration will be completed once you submit this information to the casino.
How can I Withdraw Money from Ace2Three?
You don't have to provide additional documents when withdrawing your funds from the Ace2Three account. However, it is absolutely necessary to submit your PAN card for verification of your age and identity. The casino may ask you to submit a copy of your bank statement, utility bill, or any other document for the address proof. These documents are to be provided to the customer support assistants so they can check your identity and process the transaction.
Is the Ace2Three Account Registration Process Simple?
The registration process is super easy. You only have to tap the "Sign up" button that's located right on top of the screen to get to the registration page. On the first page, you will be asked to select a unique username and password. You must also submit your email address or phone number. Only those who are at least 18 can use Ace2Three. The platform will ask you to confirm your age before you get started playing. You must also confirm that you have read the terms and conditions.
When Can I Begin Playing Rummy with Money?
Once you have registered an account with Ace2Three and your information is verified, you could start playing with real cash almost immediately. You could use your credit/debit cards to deposit money into your casino account. The best part is that the casino will not implement a waiting period before allowing you to utilize your funds. Your deposit will be processed instantly and you will be able to use your funds right away for all types of transactions. Make sure you apply the correct bonus code to be able to use the money.
When did Ace2Three Launch?
Established in 2005, Ace2Three has been operating for years and it has become an award-winning rummy-centric casino for Indian players. The platform provides users with a world-class rummy experience.
Is Ace2Three a Popular Platform?
Ace2Three is listed as the 4,804th most popular casinos in India. It offers a great variety of rummy games. Not only does the casino excel in quantity, but it offers an amazing quality of games and a seamless user experience.
When and how will my Documents be Verified?
You are asked to submit the required ID verification documents to the customer support department. They will check and verify each document manually. If anything is missing or unclear, you will be asked to submit another copy.
Is it Legal to Play at Ace2Three App?
Rummy is identified as a game of skill. According to Indian gambling laws, people are not allowed to play a game of chance at casinos in India. It is absolutely safe to play rummy and you can rest easy knowing that you will not face any issue or liability. However, players from certain regions are not allowed to play the game. For example, if you are based in Telangana, Sikkim, Assam, Orissa, and Nagaland, then you cannot register an account with Ace2Three.
What are the limitations of downloading Ace2Three?
There are quite a few restrictions the company has implemented to ensure a safe gaming environment for Indian players. For instance, it accepts players above 18 years only. Moreover, the app has put restrictions on the total amount you could deposit into the app. The company has taken every step to protect its users from overspending.
What is the ranking criterion in the membership program?
When you create the Premium account, you will be considered part of the Bronze level. You have to collect at least 500 points in order to rank up to the silver level. For Gold and Platinum, you need 2000 and 7500 points respectively. There is also the platinum+ level for those who collect 20,000+ AcePoints.
Can AcePoints be redeemed for other gifts?
No, AcePoints can only be redeemed for cash. You could use these points to participate in the tournaments conducted by Ace2Three. Those who give a decent performance will earn cash prizes.
What's the process for earning AcePoints?
You get AcePoints every time you play premium tournaments or spend cash on money-based games. 1 AcePoint is credited to your account for every hundred bucks you spend on the games. Note that free games will not earn you any AcePoint.
Is it possible to withdraw the bonus?
No, you can only withdraw the amount you have earned using the bonus money.
What popular games do I get to play at Ace2Three?
Ace2Three is a brand dedicated to only rummy enthusiasts. If you want to try Andar Bahar, Texas Hold'em, Baccarat, Blackjack, and poker games, then Ace2Three is not your best bet.
What's the process of playing rummy at Ace2Three?
What's the process of playing rummy at Ace2Three?
You could play the game for free or cash. The company enables people to try their hand at the free games before using real money for betting. This will help you enhance your skills at betting so that you know you are prepared to play with competitors. With more than 12 million players using the website, you will never run out of competition on this platform. They are plenty of tables and multiple variants to choose from.
Why Play Ace2Three Rummy?
· Huge Player Base
Ace2Three is not only the first website to offer the classical variants of rummy, but it's also the largest website to offer this classical game. It has a Playerbase of over 12 million people. You only need to register an account for INR 25 to qualify for the money-based tournaments and events that include cash prizes and jackpots.
Currently, the website is offering a whopping cash prize of INR 10 Lakh to the winner. All you got to do is join the tournament and try your luck in this classical card game.
· Exciting Tournaments
You will get to participate in many weekly tournaments as well as seasonal tournaments that are held on a regular basis. This is what brings the attention of people to the casino. The tournaments are held in the knock-out format, which means several competitions are held and the player has to win the lower and higher level of matches to become the winner. The competition is big and so is the prize money. So, why wait? Join millions of people playing rummy and give them a tough competition!
· Multiple Choices
The app offers you an opportunity to customize the game to your individual requirements. You could choose from joker and no-joker variants, 2-6 player tables, and from the amount that suits your budget. Here are the three most popular variants of rummy you must know:
Point Rummy – It is only a one-deal game where the person who wins get chips from the opponent. The amount the player has to give to the winner is decided at the beginning of the round.
Pool Rummy – The person who scores the last will be the winner.
Multi-table game – This format brings a large number of rummy players from different parts of the world to one table. People from India and other countries compete against each other.
· Bonuses and Promotional Offers
Ace2Three offers plenty of bonuses and rewards to keep up the engagement of their regular and new users. The company is recently offering RummySplash120 offer. The platform offers a whopping 120% cashback bonus and 200 cash chips to those who invest in the in-game products.
Is Ace2Three a Reliable and Secure Site?
Developed and launched by an Indian company, Ace2Three is designed for the Indian audience mainly. This classical card game platform is purely designed for entertainment. Presenting unique variants of Rummy, Ace2Three has become a popular rummy-centric app in the Indian casino market.
The company operates online and they abide by all the safety regulations to ensure that each user gets a safe and reliable experience playing their favourite rummy variants online. Ace2Three is a reputable name in the casino industry and they have got certifications from many authentic gambling authorities. As long as you are playing at Ace2Three, you don't have to worry about security and privacy issues. It is absolutely secure to gamble at Ace2Three.
Is Ace2Three a Licensed and Certified Brand?
It is not mandatory for casinos that offer games of skill in India to have a valid license and certificate issued by the gambling authorities. Since the company operates in India only, they have not applied for a license from the international gambling authorities yet. The casino does not accept players from Telangana, Sikkim, Assam, Orissa, and Nagaland.
While the casino does not have a license, they have acquired many certificates. They have received a certificate issued by iTech Labs. The casino has also received SSL approval from Thawte. The platform is absolutely safe and the information you enter for registration will remain confidential. In addition to that, the Rummy Federation has confirmed that Ace2Three adhered to all the regulations for conducting online casino tournaments for card games.
Withdrawals and Deposits
The simple and user-friendly interface makes withdrawals and deposits a breeze. The company focuses mainly on customer experience. The deposit and withdrawal process is quite smooth and straightforward at Ace2Three. For withdrawals, you could have the funds transferred into your account in 2-3 business days.
Deposit Methods
The casino offers you quite a few methods that could be used for deposits. They mainly include bank transactions and credit/debit cards. As it is an Indian casino, it accepts Indian currency as the default payment method. You could also use digital wallets to process your transactions.
Withdrawals
The withdrawal methods the casino offers currently are limited but you could rest assured that all methods support safe and fast withdrawals. There is no transfer fee charged. Note that the bonus funds you earn from the Ace2Three casino cannot be withdrawn, however, you could withdraw the money you have earned from the bonus.
Compatibility
Ace2Three has a Chrome-compatible website that runs seamlessly on your PC and Mac. You could also play the game on Safari, Edge, and other popular browsers. However, you must have Adobe Flash on your computer to be able to access the game. For those who are playing the game on their smartphone, it's available on Google Play and iTunes store. The app has an intuitive design and a user-friendly interface. You could play the game on the go through your smartphone, but we highly recommend you sign up for the website through desktop, especially when filling in your personal information and verifying your bank account.

Customer Support Department
While the overall website and interface are excellent, the company does not have a secure and robust customer support team in place. As the site receives a large number of players from India, the customer team will be occupied with several requests. As far as the quality of the customer support department is concerned, you can rest assured that Ace2Three has a friendly support team that's available to cater to all your requirements efficiently.
How do I contact the casino?
There are mainly four ways for you to get in touch with the customer support team of Ace2Three:
· You could fill the online form
· Send a direct email at [email protected]
· Call the company on 1860 258 1234
· Drop a mail
You could send an email or contact the support department via phone to get in touch with them quickly. The customer support services are available via phone during business hours only. You will get a response in a day or two.
Our Verdict
The black user interface looks quite clean. The website features a subtle design, with a neat section for the menu. As you enter the lobby, you will find a clean interface and amazing design. If you are not satisfied with the default look of the game, you could customize the settings to your requirements. There are many options that will allow you to adjust the settings and change the appearance of the website so that you could have a personalized interface. With an exciting range of customization options, you are sure to find elements that will encourage you to visit the casino multiple times.
There is no denying that Ace2Three is one of the safest and reliable online casinos for rummy lovers out there. It accepts player from India, except for a few countries. The casino offers simple operations, an intuitive user interface, and an extensive range of functions.