Adda52 Poker Site Review
If there is one site that has provided the best of online Poker gaming services to Indian players, it would definitely be Adda52! The online Poker site is home to some of the best and well-known Poker games that most Indian casino players would enjoy at their best. This includes some of popular and world renowned games like Texas Hold 'em Poker and Omaha Poker, to other interesting variants of the game such as Sprint and Crazy Pineapple Poker as well. And that is not all – the site offers a plethora of exciting and engaging game variants that players might have a hard time to select from. These could range from Poker games that involve cash, or even free versions where players with little experience can first have some practice before playing with real money. Thus, Adda52 ensures that all players, whether the most experienced or not, can still have an amazing time at their online Poker site and have a chance of winning substantial returns as well.
The site hosts some of the best online customer care service that ensures that players get the best of services that they deserve. This includes providing players with an array of options when it comes to making online transactions. The site is encrypted and protected from malwares by Norton, and has been certified for its safety and privacy by iTech Labs. Players from all parts of India can now get together and have a one-on-one session to emerge out to be the grand victor in Poker! Just like its catch-phrase – 'Where India plays Poker', Adda52 is indeed the ultimate site to play Poker in!
Excellent security while providing the best UI
Adda52 provides the best platform for players to play Poker in. All games are provided as standalone versions, where players need not download it on their devices to access Poker games. Some of the most recognizable elements of Poker rooms such as customizing Avatars, chat boxes, private and public tables, as well as customizable themes are all available at Adda52. Players might also have the opportunity to visit multiple tables at a time. Some other excellent features involve writing notes for their entries and even the option of reporting if they are convinced of some erratic experience in their gameplay. Adda52 even stocks up on some additional features over time which includes Multi-Runs, add-ons such as Rebuy and mucking or teasing as well.
And that is not all – players can have the excellent opportunity to access the games on their mobile platforms as well. All variants of Poker can now also be enjoyed on Windows as well as Adda52 provides a standalone software that could be downloaded right on your desktop or laptop!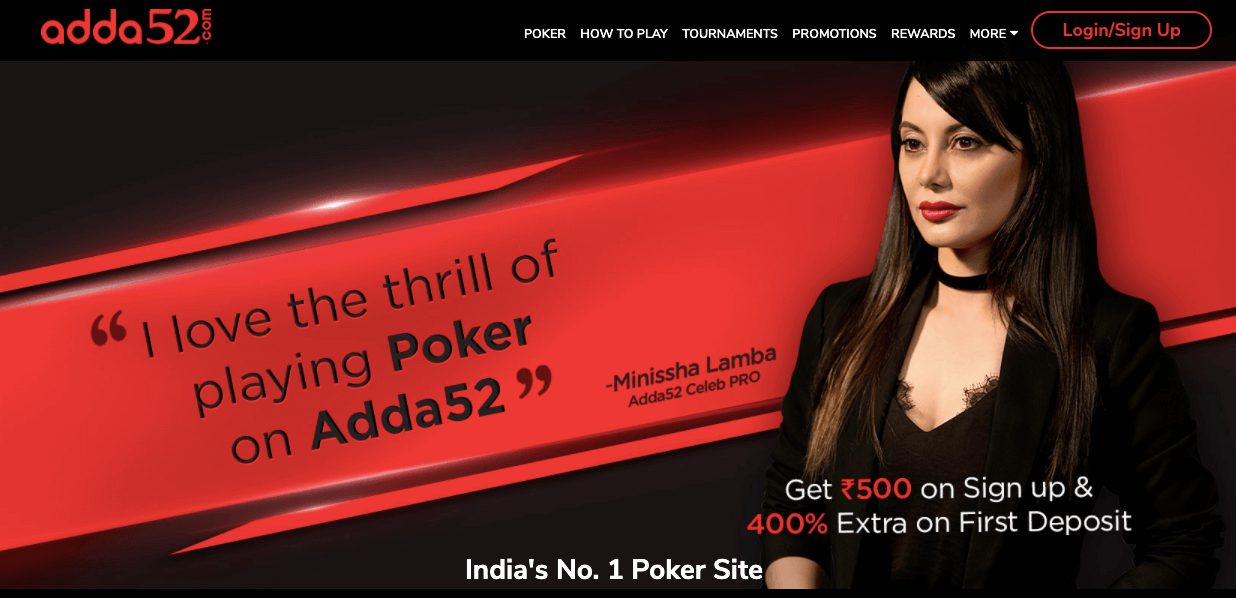 Online transactions and Deposit Methods in Adda52 Poker
Adda52 ensures that Indian players are provided with the most suitable options to make online transactions possible on site. Above all, the transactions need to be conducted in a smooth and efficient manner, while being fast as well. All transactions could be carried out in the Indian (INR) currency.
Some of the most preferred options to make online transactions are:
Debit or credit cards such as Visa, Mastercard
UPI payments
Paytm
Cheque transfers
All deposits can be transacted almost immediately. However, withdrawals might take some time between 5 to 15 days. The minimum amount to make withdrawals is ₹100.
How to Sign-up at Adda52
Signing up on Adda52 is quite simple! All that players need to do is to click a red box that indicates the registration of one's account on Adda52. When clicked, players are taken to a follow-up page where they are asked to provide information like:
Choosing a suitable username and password
e-mail address
Name, address and mobile number
Date of birth
Guide to playing Online Poker
Poker is a game of patience and requires practice on behalf of the players. Adda52 thus provides an excellent opportunity for players to learn some tricks of trade to fare successfully in Poker. The separate platform is available to all players, irrespective of their experience in playing Poker!
Indian players can now learn about the various variants of Poker, its basic setup, strategies and even rules of the game variants as well. Players might also get to learn about the various table actions that are involved with the games and the betting rounds involved with it as well.
What makes Adda52 the best platform to play Poker in?
If Indian players are looking for the largest and the best platform to play Poker in, Adda52 is the place to be in! The site hosts a number of excellent Poker games that are offered to players in a safe, private and secure place, while providing the essential Random Number Generator services that has been certified by the reputable and well-renowned company iTech Labs, Australia. The following pointers indicate as to why this site is the perfect place to be in:
Excellent services offered while maintaining privacy and security
Offers some of the best game variants such as Texas Hold 'em Poker, Omaha, Hi/Lo versions of Omaha, as well as the popular Crazy Pineapple.
The best place to be in for engaging in the best online Poker tournaments
Free platforms to try out Poker and still have amazing chances to win bonuses
A plethora of online transaction methods for Indian players that are acceptable on site
One of the largest sites that hosts games for over 900 thousand Indian players
Lets players to take a step closer to bigger online tournaments such as DPT and WPT, India
Excellent user interface provided
Best customer care services that resolve issues of players at priority. They can be reached out at helpline number (1800-3000-0611) between 9:00 AM till 12:00 AM, on all days.
What Poker options are available for games on site?
The most prominent game variants to be found at Adda52 are:
Texas Hold'em
Hold'em ++
Pot-Limit Omaha
Omaha Hi/Lo
Crazy Pineapple
What are the source of these games found on site?
Adda52 has chosen not to disclose the software companies it interacts with so as to develop the excellent games available on site. However, Adda52 ensures that players will not have to meet any specific system requirements to access games on site. All additional software, if needed, could be downloaded through links mentioned by Adda52. The site has been certified by iTech Labs, that ensures players that they would certainly have a very fair gameplay, without any unduly and unfair practices being practiced by the dealer.
How efficient is the online site?
Beginners might have a little issue when accessing the website for the first time. This is because of the large array of games that one might come across on site. Once registered, players can learn about all the active Poker games and variants that are available for them to choose from. This long list is however, categorised into its specific variants – something that the players will have to decide when choosing the best game that suits their specific needs and interests.
Once a player decides and clicks on a variant, they are directly taken to the Poker table!
How to access Adda52?
Adda52 services can be accessed via 2 methods. The first method is through the browser and accessing the website. This can be done on a desktop or a laptop, or even using one's mobile browser as well.
The other way is to access the services via a mobile app. Adda52 app can be downloaded for both Android and iOS versions as well.
Excellent customer service provided:
Customer services can be acquired through phone calls, emails and live chats as well. An alternative FAQ section is also provided for players as well. A Youtube channel has also been dedicated to guide players across the basic setup at Adda52.
Email ID – [email protected] Live chat is accessible between 9 A.M till midnight.
Top 5 aspects to like about Adda52!
Game variants offered: A plethora of options that lies at the tips of one's own fingers – Adda52 ensures that players are never bored of playing the same old Texas Poker on site. The exciting variants such as Omaha and Crazy Pineapple will ensure to keep players on their toes at all times!
A separate FAQ section: The frequently asked section is probably a boon for players who are just starting out in their Poker gaming journey, or are just new to the site. The FAQ section is a detailed information section that might resolve most of the basic queries of players visiting the site. A plethora of information regarding setup, registration, game variants and many more information is available all at one place!
No currency conversions required: Indian players are at an advantage of experiencing the best of online transactions at Adda52. The site has been designed explicitly for Indian Poker players and does not require them to make any transactions in any currency, other than INR.
Separate section for learning tips: Beginners can find this section where they can learn the tricks of the trade and emerge out to be successful while playing Poker at Adda52!
Gateway to tournaments: For the more ambitious players who are looking to try their luck in an online tournament, might find a constant reminder and updates on all the upcoming tournaments that are to be found in the world of online Poker gaming in India!
Where could Adda52 possibly get better at?
Although Adda52 has some of the best features that could be provided to Indian players, there are certainly some issues that need to addressed as well.
Opportunity to provide better customer service: Indians players might have a plethora of options when it comes to contacting customer services. However, representatives are seldom found at all times, as advertised on site. Chat options sometimes meet no representatives on the other side as well. Sometimes, it might feel like that the responses provided on live chats are automated. Thus, it might give the impression that the responses are not actually provided by a real representative, but are automated and prompted by a computer instead.
Loopholes in Indian laws: Adda52, just like many other online casinos, has found a loophole in the Indian law system to function and keep on providing services to Indian players. By the constitution, casinos are not legal entities to provide services in most parts of India. However, there is no specific law that restricts people from doing the same over an online platform. Thus, there always lies a looming problem of its legality in the future.
Few game options to be found: The Indian laws makes it possible for Indian gamblers to play only those games that do not involve the element of 'chance' or 'luck'. That's why, only games that involve skill on the part of the player (such as Poker and Blackjack) are legally allowed to be accessed by Indian players. Thus, if one is looking for other game options at Adda52 (including sports betting), they are in for some disappointment.
Adda52 Poker Review Conclusion
With over 900 thousand subscribed players, Adda52 boasts of a huge clientele – those that acquire their Poker gaming services. The site hosts and exhibits many national and international Poker tournaments that players might be intrigued to learn more about. Another great aspect is that some of the well-known Indian Poker tournaments such as the WPT and DPT are also exhibited on site. The user interface is quite simple and accessible, and could be accessed on all possible platforms and operating systems that are used worldwide
FAQs on Adda52 Online Poker
Can Adda52 be the best choice for Indian players?
Adda52 is one of the leading platforms that provides Poker gaming services in India. However, just like most other casinos, Adda52 has also found a loophole in the Indian laws to provide services to players. The looming distrust and the number of complaints regarding the casino cannot be overlooked by players. Although Adda52 maintains its position on not having to get itself licensed, it still needs to assure its customers that they would be accessing legit services at all times. Since there are not many steps taken in this regard by Adda52, we believe that there are other better options in the market that players might consider investing their time and money in.
What is meant by Adda52?
Adda52 is the online gaming platform where Indian players can access and play Poker games.
Is Adda52 a legal operator in India?
According to the Indian gambling law, Adda52 provides legal skill-based games to players. Thus, it is a legal operator.
How to access Adda52 Poker?
Enter the URL (or website) of Adda52 on the address bar of your browser (mobile or desktop). When you are directed to the site, click on 'Login' to enter your registered credentials.
How to download the standalone app?
If one scrolls down to the bottom of the Homepage, there are downloadable links for the app that have been designed for Android and iOS, as well as Windows and Macintosh operating systems.
How to find Adda52 bonus code?
At the Homepage, there lies a menu on the right most corner of the window. Under that menu, lies the 'Offers' section that lists out all the available bonus codes that players might have access to.
How does one earn loyalty points at Adda52?
Gameplay that involves depositing real money, provides players the chance to win loyalty points. More the wager made, more points are awarded.
Who is the owner of this operator?
Gaussian Networks Private Limited is the owner of Adda52. It is formally owned by Delta Corp.
How trustworthy is Adda52?
Adda52 was one of the first premier sites that offered Indian players the chance to access online gambling and gaming services. In within a decade, the website rose to prominence and has been delivering a lot many services to the average Indian players. However, there are some bad remarks about the casino that has accumulated over time as well. Thus, players are advised to keep them in mind before accessing their services.
What is mentioned about the licensing and credit certificates for its legality?
It is always advisable for any casino player to look for licenses that are awarded by government recognised bodies. For e.g., a license offered by Government of Curacao might indicate the authenticity and legality of the said casino. This license might also indicate the authenticity of the casino's services with respect to payouts, online transaction safety, security and privacy of the players, etc.
However, Adda52 doesn't own any license that has been authorised by any legal entity or a governmental body. According to the casino, it is perfectly legal for them to provide their services to players since they only offer Poker, i.e. a skill-based game on site. The Indian Gambling laws restricts casinos from providing any game that involves 'luck' or 'chance'. Thus, the casino believes that it still adheres to the laws of the Indian constitution and need not acquire any license from any governmental body or gambling authority in India or abroad.
There is a mention of using a 128-bit SSL encryption on site that provides players with security and keeping their personal information in a private and safe manner. However, the lack of a license can bring out serious doubts in one's mind.
How old is Adda52?
In 2011, Adda52 launched its online casino site that offered players to play Poker on their online platform. According to the Indian Gambling laws, Poker is a skill-based game and does not solely depend on the luck factor of the player. Adda52 does not provide any other game option on site and just offers Poker games and variants.
What is the reputation of Adda52?
Adda52 has been marketed as one of the pioneers in the online gambling scenario in India. However, since its inception, there have been a number of complaints registered by users that have accessed their services on site. These issues have always been regarding withdrawals and payouts where players have either not received them, or have been barred from making any withdrawals. Complaints have also been about not receiving the welcome bonus, and the closure of accounts when players submitted a query at the customer care portals.
However, it is important to mention that some players have been making false accusations against the casino as well. Even if some of them might be false claims, there are a significant number of complaints that could be an exceptional case as well.
What is the level of popularity for Adda52?
Adda52 has secured a ranking of 48,446, since it exclusively provides gaming services to the Indian audience. It has been remarked that the average amount of time that one spends on site is a maximum of ten minutes. The ranking seems to deter as the number of complaints against the site keeps on increasing over the years.
Can Adda52 be recognised as a listed company?
Since the casino is acquired by a private organisation, i.e. Gaussian Private networks, it cannot be considered as a listed company. GPN is owned by Delta Corp. There has been no news regarding the change in the ownership of this brand, that has been mentioned by the company.
Are any documents required to make withdrawals at Adda52?
Adda52 requires players to provide their personal information in order to access services on site. This is necessary to identify the user as a valid registrant on site. Documents that need to be submitted, not only mention the name and the address, but also the picture ID of the user as well. If players decide to use credit or debit cards to make online transactions, they will have to provide the pictures of the front and the back ends of the card before they can make any purchases.
Is it easy to register oneself on Adda52?
Regardless of the documentation that is needed for registering onsite, it takes hardly some few minutes to set up an account at Adda52. The information that needs to be provided is very basic and not something that one might not know when registering for an account on site.