PokerStars India Review
Here's our comprehensive review on PokerStars that can guide you to enjoying thrilling pokers sessions fearlessly at a top-rated trustworthy online gambling destination. PokerStars.in has a good reputation in the iGaming world not only due to the cutting-edge platform it provides but also for the endorsement it attracts from crowned poker players. International poker pros rank this site as one of the best; thanks to the high-quality of games and its innovative variants powered on this platform. With Poker experts such as Daniel Negreanu and Barry Greenstein endorsing PokerStars, you won't question the site's credibility.
Poker remains one of the most appealing gambling games and its sustained popularity in the online gaming domain proves this. One of the most fascinating aspects of gambling beyond its perks of winning is that the player can employ his skill and experience to outsmart his fellow players. At PokerStars, a session of this timeless game can be highly rewarding.
The range of games is simply enthralling, calling for a large network of players to register at PokerStars. Although most of the players at PokerStars India are undoubtedly from the poker pro-community, you will find an equal number of players who frequent this site for recreation and practice. The more you play, the better you get at it.
For poker lovers on the lookout for some additional benefits of playing at PokerStars, you can power up your gaming with the generous incentives that this site offers in the form of a Welcome Bonus. Just sign up at their site and you can use the given code on the website to grab this lucrative opportunity. They also have an enticing loyalty program along with other rewarding promotions and bonuses that enable players to enjoy gaming with high incentives. From special events and tournaments to special offers given away round the clock, PokerStars India is an ideal niche to play at.
Pokerstars India – Play for free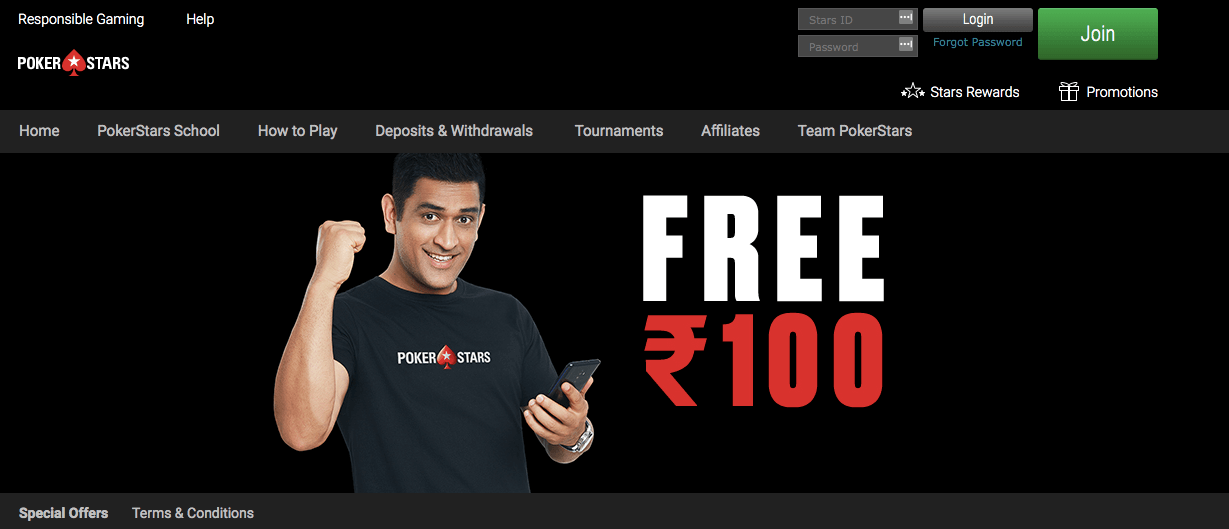 Online Poker is a lot like everyday life, therefore you might be natural at it. On Joining PokerStars.in, you will get a ₹100 bonus to start your poker journey for free!
This means, You don't even need to make a real money deposit before you start playing! All you need to do is to create an account, complete the verification process via mobile and then lastly, fill in the real money form to unlock your free prizes.
Here's what you can get:
₹50 cash bonus
5 x ₹10 Sit & Go tickets
Entry to 'Weekly Stars Rewards Freeroll' each awarding ₹25,000 in cash prizes
Do not forget to make Use of the code 'MADE1500' on your first real money deposit of ₹500+ and you'll get an extra ₹1,500 in free play – ₹500 cash bonus and ₹1,000 in Sit & Go tickets.
Guide to complete the mobile verification process:
Verify your mobile number via SMS
Complete the Real Money Form. To find it, click on the 'Deposit' or 'Withdrawal' tab in the cashier
PokerStars India – Security and Fair Gaming
PokerStars.com guarantees a completely safe and reliable gaming environment with its license from the Isle of Man. Known for its high standards, this regulatory authority makes sure that your safety and security is prioritized here. To maintain fair standards of gaming and proving every player an equal winning opportunity, PokerStars India ensures that every game in their library is reviewed by independent audit authorities now and then. Each game is enabled with the Random Number Generator to make sure that the game results are random and not pre-defined.
When it comes to privacy, you can trust this site with closes eyes. Yes, that's the level of accountability they promise their players. The site uses advanced SSL encryption technology to safeguard player data. This means that all your financial and personal data shared with the site is protected and not accessible by any third party. Also, they don't mingle with the player's money as they maintain separate financial accounts for players and operations.
Among the benefits of playing at PokerStars, you get to enjoy the liberty of accessing games without having to pay a single dime. These are the free games that enable you to try your favourite ones before staking real money.
Mobile Poker India
If you enjoy playing on the go, there's no looking back once you register with PokerStars. The technologically advanced site makes sure that their unique gaming niche is accessible on a range of hand-held devices including iOS, Android, Windows and Blackberry smartphones and tablets. With every game optimized for portable devices, you can enjoy immersive poker sessions from anywhere, anytime.
Accessing the impressive poker lobby at PokerStars India does not require any special effort. All you need is to set up an account with the site to start enjoying a galore of poker variants. This can be done from any device of your choice. Simply use the web browser on your mobile device to play your choicest games on the move. Not only can you play but also enjoy the luxury of depositing and withdrawing your winnings via the mobile poker platform.
Alternatively, you can download the Poker app powered by the site onto your choicest devices. The PokerStars app is compatible with version 4 of iPhone and above, version 2 of iPad and other smaller models of iPad, latest iPod models and Android devices running version 4.1 or above. Just make sure that your device is facilitated by a minimum screen resolution of 800X480.
PokerStars App Download
If you own an Apple iOS device, head to the App Store to download the iOS App. Android users can download the Android app from the PlayStore or directly from the PokerStars website.
Downloading the PokerStars app download does not cost anything extra and you can install it for free on your respective devices. All you need is an active internet connection to get going.
For new players trying to refine their skills at playing mobile poker, we suggest you take a tour of the onsite tutorials specially designed for smartphone and tablet users. This will enable you to explore the excellent playing options on your preferred device.
If you wish to play real-money poker, you can utilize the banking facilities on your phones along with all the spectacular bonuses and promos offered by PokerStars.com Regardless of where you log in from, whether it is your desktop, laptop, mobile phone or tablet, you can access every bonus, promo and also participate in the tournaments. Chat with other players, review your play history or claim your rewarding poker jackpots; you are sure to cherish every moment of mobile poker gaming at PokerStars India app download.
Software and Games
For poker fans eyeing state-of-the-art poker games, PokerStars India is the one-stop destination. That's because the site offers a plethora of poker variants developed in-house by their poker stalwarts. With such a resourceful setup, PokerStars doesn't need to depend much on sourcing their games from elsewhere.
The poker software at PokerStars is updated regularly to make sure that it caters to the playing demands of its members and also stays ahead of the competition in the market. Players registered here are privileged to enjoy innovative poker games with advanced features.
You can choose to access the exquisite poker collection at PokerStars in either of the two ways facilitated by the site. There is no Flash version available at the moment which makes a tad challenging for players who want to enjoy instant play. You can download your favourite poker game and play at your convenience. Unlike many sites where you only get to access a handful of games in their mobile version, PokerStars.com and PokerStars.eu make the entire poker catalogue playable from your mobile device.
Whether you download the game onto your PC or on an iPhone, iPod Touch model, iPad or Android smartphone, the gaming software makes sure that you enjoy the same playing options, features and graphics quality irrespective of the device. Downloading the software doesn't take long and simply following the instructions can get you started within seconds without having to worry about the playing process. An intriguing aspect of gaming on this software is that you can switch between devices when playing online. So, if you are in the midst of an exciting tournament and plugged into your PC but have to step away, you can simply switch to your portable device and continue enjoying the game from where you left.
Advanced features and customization at PokerStars India
Among all these facilities you expect from a good site, having access to customized services is certainly a cherished one. At PokerStars, it's the special features that enable the poker games and the online niche to stand out. The benefits you get to enjoy at PokerStars include:
The facility of quick seating and multiple- tabling
Access to a customizable table design
Options to play free poker games
Enjoy opportunities to nab big poker jackpots
Replay the previous hand and also review hand history
Enjoy open chat sessions with other poker players
the possibility of tracking other competitive poker players
Access the 'Poker School Online' guide to help you enhance your poker skills. You can enjoy test play and discuss strategies with poker pros, chat with co-players in the 'PSO forum' and also participate in the 'PSO Skill League'.
Real-money Poker
From high-rolling to playing no limits poker, PokerStars brings you the scope of playing as you like. Whether you want to play during the day or at night, it's your choice as you won't have to queue up for a seat here. Grab your seat instantly and enjoy anything from micro-staking to high-rolling at this exclusive poker hub.
What you need to play at PokerStars.eu is just to make up your mind on whether you want to play with virtual money or cash. Once you've decided you can use the user-friendly navigator to search for the respective game. If you want to stake real money on a poker session, first specify the game type, the bet limit and the stakes you want to play such as high, medium or low. There is a 'Quick Seat' button that you can click on to get seated instantly and start your poker game.
Zoom Poker
Aside from the regular Poker games that you can play at any other site, PokerStars offers this exclusive Zoom Poker game. Also known as a 'fast-fold' poker game, Zoom Poker allows players to fold their hands before their turn. Once, you've done that you will be allowed to hop to another table to enjoy the next poker session with a new group of players. You can play this game not only in tournaments but also as cash games and heads-up. The only drawback is that Zoom Poker allows you to stake low. If you intend to stake high, this may not be the best poker variant for you.
Playing Poker Tournaments
Kindle the excitement online with PokerStars poker tournament! The site offers countless options to poker players where they can choose to play what appeals to them the most. For instance, if you want to enjoy a poker session at the wee hours, you can simply log into your poker account with PokerStars to begin playing right away! Be it micro-stakes or staking big or indulging in risk-free play with virtual money, you'll never run short of options at this site.
The variety of games will surprise you and can keep you hooked to the screen for long. You can select games based on your skill-level, bankroll, preference as well as format. For players scouting for tournaments, this is the dream poker destination where you can test your skills at tournaments just made for you. And lucky players can seize opportunities to ring in massive jackpot wins.
Once you are at the PokerStars site, you can navigate to the ' Tourney' tab or search for ' Weekly tournaments' to view the complete list of tournaments hosted by PokerStars. The regular tournament is accessible in the No-Limit Hold' Em format while poker variants such as Omaha or Poker Stud also feature under the special poker tournament games. You can play a tournament without having to stake big. If you opt to try a hand at the pricey tournaments, you may or else the option to play a free-roll or low stake tournament is always open. If you want to experiment and explore your skills, check out the jackpot poker tournaments to snap a big deal!
Spin & Go Poker Tournament
Some tournaments just can't be overlooked and the Spin & Go is one of a kind that is limited to only 3 players at a time. Known as the 'Hyper-Turbo Sit and Go Tournament', you can stake anywhere between $1 and $100. The varying price pool can go up to 10,000x the buy-in. The payouts own a distinct character as they are randomly spun by a spinner seated in the centre of your poker table. You can check out the website for detailed information in the special events open to poker players registered at their site. If you are keen to participate in the tournament, consider checking out our Spin and Go strategy blog for further details.
PokerStars: Background
PokerStars was launched in 2001 at a time when online poker was not as popular as it is today. It was in 2003 when the poker player Chris Moneymaker sealed a whopping win in the WSOP Mai Event that poker began to attract players. The rage was such that everyone, from homemakers to business executives wanted to try a hand at poker with the dream of becoming a millionaire.
PokerStars became one of the largest poker sites in the online poker world with most players registered from the US. On April 15, 2011, American poker fans witnessed a doom's day as the site was shut down for all American players. A stern step was taken by the then US government, later in 2012 the US Department of Justice and PokerStars arrived at a settlement. The Rationale Group was permitted to buy out the assets of Full Tilt. They issued the refunds to American poker users registered on both the sites. Despite the settlement, both PokerStars and Full Tilt continue to remain closed for the US players. Later on, both Full Tilt and PokerStars were purchased by Amaya Gaming and finally, they got the approval to operate in the state of New Jersey.
Not that any of this robbed the Americans of their interest in poker. PokerStars has anyways won their hearts by returning the money they owed to the American players at their site and thus nothing could stop this site from reclaiming its top position.
The cutting-edge software, the stunning gallery of games and the unique tournaments of PokerStars have kept the interest alive among their fans. The mobile platform added a feather to its cap. The downloadable app for Apple and Android device users in 2012 was a significant step in making their poker gaming niche a technologically advanced one. With customizable features, state-of-the-art games and a series of tournaments seamlessly accessible on smartphones and tablets, PokerStars rose to sky-touching heights.
PokerStars continues to expand its brand image and value and the launch of PokerStars Casino is just a step towards it. They also launched their online sports betting platform under the brand name BetStars and seeks to outperform many competitors in the field.
Banking Methods
It might delight you to know that PokerStars has one of the largest online poker rooms in the online poker territory and you can play at any of these by simply funding your account. The site makes depositing and withdrawing a cakewalk; thanks to the safe and reliable transaction options enabled on their site. Depending on which country you reside in you can find the feasible options to fund your account at PokerStars. For more information regarding the acceptable methods, you can check out the website. Except for those mentioned specifically, the same deposit and withdrawal method can be used for the respective purpose. There is a built-in web cashier designed for the mobile players to enable them to pay and withdraw conveniently.
Some of the banking methods available at PokerStars include MasterCard, Skrill, Neteller, EntroPay, Paysafecard and Bank Transfer. US Dollar, Euro, Canadian Dollar and GBP are the currencies currently accepted by the site. Deposit limits at PokerStars vary but players can choose to set their limits as and when required. It usually takes around 72 hours for any withdrawal to be processed while deposits are mostly instant. You can play with real money hassle-free at PokerStars.com and PokerStars.eu as they ensure ultimate security and privacy of your account and financial transactions via the latest encryption technology.
The live chat option is a swift way to reach to the support team at PokerStars for any banking related query. Just in case you face issues regarding a deposit, you can reach out to the Deposit Assistance Department at PokerStars and they will instantly offer solutions via the multiple languages enabled live chat window.
Support and Assistance
PokerStars India is backed by a solid customer support team lead by experts. You can send in your queries to the team via email or discuss an issue over the live chat facility. The phone service is not currently available. From gambling-related queries to technical support, you can expect this professional team to respond to your concerns in no time. They are quite an approachable bunch of people and you can have your queries answered most amicably. Connect with the team at PokerStars via Live Chat, Email and the Online Customer Support Form available on their official website and Pokerstars app.
VIP Program and Promos
Welcome Bonus is one of the major attractions at playing at this poker junction. The generous Welcome Bonus up to INR 1,500 can be received upon signing up. You will have to use the marketing code provided by the site to collect the bonus. This offer comprises a 100% match given away on maximum three consecutive deposits made in the course of first 60 days of playing at PokerSports.
For players who can deposit the entire amount on the first day at the site, it would be beneficial for them. Others can deposit INR 1,500 over 60 days. So, you can start with a smaller deposit in the beginning and after a day or two make the second and third one consecutively. The only thing that needs to be kept in mind is that despite how you pay, you can still receive the full bonus amount from PokerStars or whatever the total qualifying deposits sum up to. Depending on your comfort you are free to deposit that amount you wish to and there is no hard and fast rule that you have to deposit ₹1,500. Even upon depositing a smaller amount you will be eligible to the Welcome Bonus.
Make sure that as soon as you sign up, you can collect the marketing code and upon your first deposit using the code (Stars400) to claim the promotional offer.
Just earn the required number of VIP player points and you can clear the Poker Stars bonus right away. This can be earned each time you play with real money in any tournament. Every €/$1 paid as tournament fees and contributed to the rake in the ring game can get you 5.5 VPPs. This means that you will not have to wait until the bonus is cleared as you will start earning it in the process itself. With 200 VPPs at PokerStars, you will be given $/€10 of the balance bonus and you can clear this bonus over four months by earning enough VPPs.
Loyalty Program
Players at PokerStars and Poker.eu are privileged to two kinds of bonus points. One is the VPPs (VIP Player Points and the other is the FPPs (Frequent Player Points). Note that the VPPs points offer dual benefits for they not only facilitate the clearing of the PokerStars Welcome Bonus but also determine your acquired rank in the 7-tier loyalty program. These seven levels are titled as follows: Bronze, Chrome, Silver, Gold, Platinum Star, Supernova and Supernova Elite.
With Bronze as the first level, you can grab every opportunity to move up the ladder. Achieving a certain minimum number of VIP Player Points every month can help you climb up by one level. You can expect every higher tier to get you more rewards along with opportunity to earn points faster to accumulate more rewards.
Also, the Frequent Player Points are based on your play. Moreover, you can redeem these points for cash or use them to purchase tournament buy-ins; alternatively, you can trade these for poker gear or other goods at the VIP store. For every VPP you can earn one or more FPP, based on which tier you've entered.
Higher Rewards
With the total VPPs accumulated, you can expect to claim the Stellar Rebate rewards annually. If you manage to reach the higher tier you will be eligible to receive special invitations to VIP tournaments organized for players who've entered that level or higher. You would need to accumulate a minimum of 100000 VPPs annually to achieve the Supernova status. With 1000000 VPPs you can enter the Supernova Elite status. Players who manage to get there get the best VIP treatment. The customized benefits extended upon reaching this level are highly enticing and include invitations to live events, personal assistant and prioritized support among other elite services. These are in addition to the rebates given on achieving yearly VIP milestones and the lucrative bonuses that you collect.
Exclusive Promos
PokerStars.com and PokerStars.eu always treat their customers well and other than the rich loyalty program, they offer an array of special promos. Such offers are open to both new and existing players. There are both short term and long term promos some of these promotions that are offered from time-to-time. You can keep checking their website for the most rewarding promos so that you don't miss out on any glorious winning chances. Some of these exclusive promos are the cash prizes, satellites that offer seats to major events and so on.
Games Variety
Choice of poker games translates to choosing from its innovative types that include cash games, tournaments and other competitive poker play. PokerStars India understands the needs of its players and accordingly keeps its lobby up-to-date with intuitively featured poker games.
Concluding thoughts
As a top-grade poker site in the world, PokerStars.in exceeds player expectations. The excellent variety and quality of games render PokerStars India a competitive edge over other online poker providers in the market. The excellent mobile poker niche and the uncompromising features provided by PokerStars India is enough to win the hearts of poker aficionados. The site portrays the advantages of playing poker within a safe and trustworthy environment. Whether you want to challenge yourself at a hand of poker or give your fellow players a run for their money, PokerStars app continues to be the leading poker hub in the industry!