Pros
Get the Real Lottery tickets
Quick and Easy Withdrawals
Live Chat and Support
Great Choice of Lottos
Cons
Fewer withdrawal methods
Doesn't offer the welcome bonus to new players
TheLotter India Review
Initiated by The Lotter Enterprises Ltd back in 2002, TheLotter was one of the few online services that provided visitors with the chance to draw lottery tickets. One of the best aspects of this online service was that visitors had the option to choose from many acclaimed international lotteries. The online site boasts of providing services in most of the major international languages as well. Read theLotter review below for more!
TheLotter is a well-established online service that is known for providing exceptional services in offering online lottery services to players all around the world. This includes players the chance to experience lotteries that offer some of the biggest draws and earnings as well.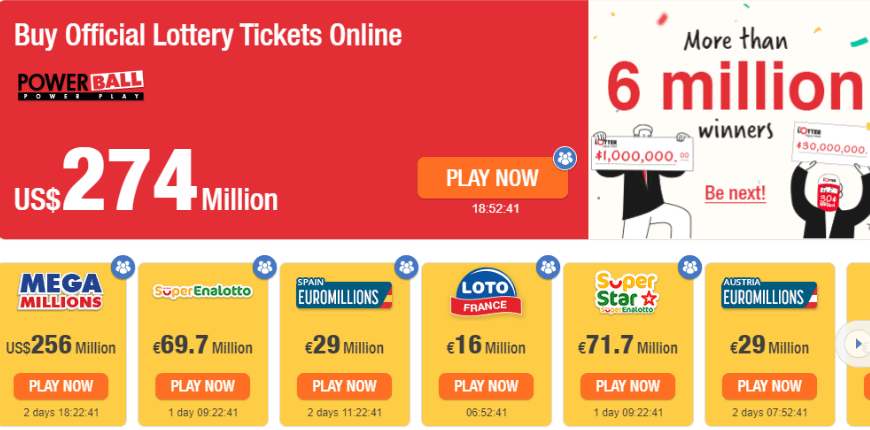 How it works is that players can order tickets online where some personnel of TheLotter would purchase a ticket on the player's behalf. The tickets are always known to the player as they can view the information on their respective registered accounts. Ticket purchasing would involve a small service fee, along with the price of the original ticket. This allows TheLotter to run its services without claiming a commission on the winnings.
TheLotter is available and can be accessed on a desktop or even smartphones that run on well-known OS systems such as Android, iOS, or even Windows.
theLotter Options
Officially, there are about 52 options concerning international lotteries that players could opt for at TheLotter. Some of the well-known establishments include EuroMillions, MegaMillions, and even the US Powerball as well. As of today, there have been more than 4 million winners opting for services at TheLotter!
TheLotter India remains to be one of the best and the largest online services that have been offering online lottery services to players, globally. The online services have been registered and licensed to Lotto Direct Limited. Headquartered in Malta, the company has its locations at more than 20 places that allow easy purchasing of international lottery tickets.
Lottery Selection on TheLotter
With more than 50 different options, TheLotter provides options that range from some established lottery services around the world. These include the US Powerball and MegaMillions lotteries and even European lotteries such as the EuroMillions, EuroJackpot, SuperEnalotto, La Primitiva, and even the Australian Powerball and Oz Lotto.
Players have the option to choose from lotteries that draw and exhibit the winning tickets on a daily or a weekly basis. Some of the largest raffles such as the Spanish Loteria de Navidad and Loteria Nacional can also be found here.
All that a player needs to do is to register themselves on the website and select their preferred lottery to play. Once selected, players can then select which play option works the best for them, followed by making a deposit to pay for the purchase of the ticket.
There are different play options available on the site and theLotter app. These options provide players with a variety of ways to increase their odds of winning by allowing them to purchase tickets on a variety of lotteries. Some of the most popular ones include lottery syndicates, one-time entries, multi-draw packages, and many more!
With about 80 local and international lotteries on-site, you can expect a chance to win at theLotter anytime! theLotter ensures to send you a notification in case you win a lottery, and makes it easy for you to claim your winnings as well.
Some of the most popular and established lottery options available at theLotter app are:
USA – Powerball, Mega Millions
Europe – EuroJackpot, EuroMillions
Italy – SuperStar, SuperEnalotto
Spain – La Primitiva, EuroMillions, BonoLoto, El Gordo
Australia – Oz Lotto, Powerball Lotto
theLotter ReviewAustria – EuroMillions, Austria Lotto
Brazil – Mega Sena, Dupla Sena
Canada – Lotto 649, Lotto Max
Finland – Finland Lotto, Viking Lotto
France – EuroMillions, France Lotto
Germany – German Lotto
Hungary – Hatoslotto, Otoslotto
Mexico – Melate, Melate Retro
New Zealand – Powerball
Poland – Lotto
South Africa – Lotto, Powerball
Ukraine – Megalot, Super Loto
Guide to Availing Services at theLotter App
The foremost step for any player is to first register on-site with some information and credentials, that would help them get their account verified. Post verification, players have the chance to select their lotteries from the available options onsite. On behalf of the player, representatives of theLotter app would buy the tickets from one of their 20 different, globally placed establishments.
Once purchased, the tickets are scanned so that the number is displayed to the player on their registered account. Players can view their tickets and know if they have won a draw. However, theLotter app also notifies the player through email or SMS services as well (if permission has been provided by the player during registration).
The best aspect of theLotter services is that there are no commissions claimed on any of the winnings. Instead, a small service fee is charged, that the player can view in the transaction fee details provided when making the purchase. All winnings could be stored on personal accounts, or can be transferred to the players through their verified payment channels as well.
In the case of Jackpots with a substantial sum of money, the official policy of theLotter requires the winner to collect the sum in person. However, theLotter app assists in allowing the winner to arrive at their destination, and provide them with guidance all-throughout the collection of their winnings.
theLotter Winners
Aura D who comes from Panama was one of the luckiest jackpot winners in July 2017, who won a whopping amount of $30 million! Her plan for the future included an early retirement from a job and ensuring a good future for the later generations.
M.M was the first person to win a jackpot of $6.4 million back in 2015 while playing the Oregon Megabucks Draw. M.M hailed from Iraq but was guided by an official representative of theLotter winners to reach Oregon and claim the winnings as well.
In January 2016, a 73-year old man from El Salvador, won a jackpot of $1 million while playing the US Powerball draw. The man had worked all his life in the US, but now has moved back to his country after retirement with all the jackpot money to be used in El Salvador instead!
In 2016, an Australian lottery winner won a grand prize of $1 million by purchasing a ticket for the US Powerball draw. He had been associated with theLotter lottery results since 2003 and has been winning many small earnings on the site, before finally striking the jackpot in 2016!
Excellent Customer support provided:
The website has a live online chat service through which visitors can access customer support. The chat services are available in 14 different languages as well. Toll-free lines are also available 24/7 for countries such as the US, the UK, Canada, Russia, Germany, Ukraine, Australia, France, and South Africa. Email options are also available for players to opt for, which are available in 14 different languages as well. Emails are replied to within 24 hours, to the best efforts of theLotter India. A more recent initiative in contacting customer support was through WhatsApp as well.
theLotter App and Mobile Site
The mobile site of theLotter has a very efficient design that allows players to navigate on the site with ease. The page can be downloaded on any mobile phone with ease, even during slow internet connectivity. Visitors can immediately check out the major lotteries available, the lottery amount, the timer for the next available draw, and the list of the best lottery options available on site. A navigation bar allows visitors to navigate through the site and view all this information with relative ease.
There are dedicated apps for the site that is available on Android as well as iOS application platforms as well.
theLotter India Payment Methods
Lotto tickets can only be purchased via the registered model of the online transaction as opted by the visitor. This route of the transaction is also available to claim small secondary winnings on site.
The available routes of making online transactions are through conventional routes such as Bank transfer, Maestro, Visa, MasterCard, Discover, and Diners Club. E-Wallets such as Skrill, Neteller, Paysafecard, EPS, POLi, Sofort, CartaSi, Giropay are also available. Other theLotter payment methods include Direct Debit, iDeal, Nordea Entropay, Bleue, Postepay, and ePay.bg.
One of the best features of theLotter app is that there are more than 27 options to make deposits on site, along with 7 different options for making withdrawals. This allows players to conveniently make online transactions possible. Bank transfers are subject to a variety of local currencies as well.
Players have 7 different options when it comes to making withdrawals on site. These options include some of the conventional theLotter payment methods as well; including Visa, Maestro, bank transfers, etc. In case of making a withdrawal, players can go to the "My Account" tab and click on the "Withdraw" option under the tab menu.
How to buy theLotter tickets
An overview of the play options available on the site are:
Single Play: Players have the option to purchase 3 to 25 tickets at one time. They can choose their numbers or allow the Quick Pick option for random purchases.
Syndicates: Another way to purchase tickets is by buying shares of a bundle of tickets. Syndicates are teams of purchasers who buy a huge set of lotto tickets. In case of a win/win, all profits are shared among the shareholders as dividends.
Bundles: Players can opt for purchasing shares through syndicates, while also buying personal tickets as well. These bundles are available at a discounted price ranging between 6-10% for purchasing lines between 40 to 756.
There are some other options for players to consider as well:
Multi-draw purchase: Players can purchase 52 draws in advance and will never have to miss any draw in the future.
Subscriptions: Players can subscribe to a chance where tickets are automatically bought for the selected lottery options desired by them.
Systematic forms: This option allows better coverage of all the possible combinations of numbers as desired by the player. It is relatively more expensive than other options but provides a better probability of winning.
In the case of group plays such as syndicates and bundles, players would still officially be a part of the entry. They are not excluded out as an entry even if they don't opt for purchasing a personal ticket, regardless.
All winnings on the lotteries are distributed by the lottery operator and not by theLotter app. This allows theLotter to not depend on its revenues or insurance coverages to make payouts for the winners. Thus, players can be ensured of a likely chance of receiving their payouts in case of winning.
Why theLotter is Safe
Unlike lottery operators, theLotter is just a platform that allows lottery operators to exhibit their lotteries on-site, and for players to purchase them. TheLotter has nothing to do with offering lottery tickets by itself. Thus, all rules are limited to the ownership of the account.
All verified account holders need to be above the age of 18 years and older. No individual who is directly associated with any of the lottery operators is allowed to purchase tickets on this platform as well.
All users are required to read the rules and regulations of the site as described under Terms and Use. Additional rules concerning individual lotteries are also provided on the site as well.
Security features and licensing of the platform:
The platform has been licensed by the Malta Gaming Authority. All personal information and online transactions are secured by the Geotrust 128 bytes SSL security. Accounts are also well secured under a username and password as well. The proof of theLotter's exceptional services and security features lies in the fact that over 4 million winners have claimed a total of $90 million since its establishment in 2002. This ensures the level of confidence and trust that visitors have for the platform, globally.
VIP loyalty program:
The VIP loyalty program is offered by the VIP club. All members who are frequent users on the site can register themselves on the VIP loyalty program. In this club, all members have the chance to earn 1 VIP point for every dollar spent while purchasing tickets on the site. Accumulated points can then be redeemed to avail discounts on the following purchases as well. VIP members can also get the exclusive chance to opt for select available draws for them.
theLotter Results and Winnings Withdraw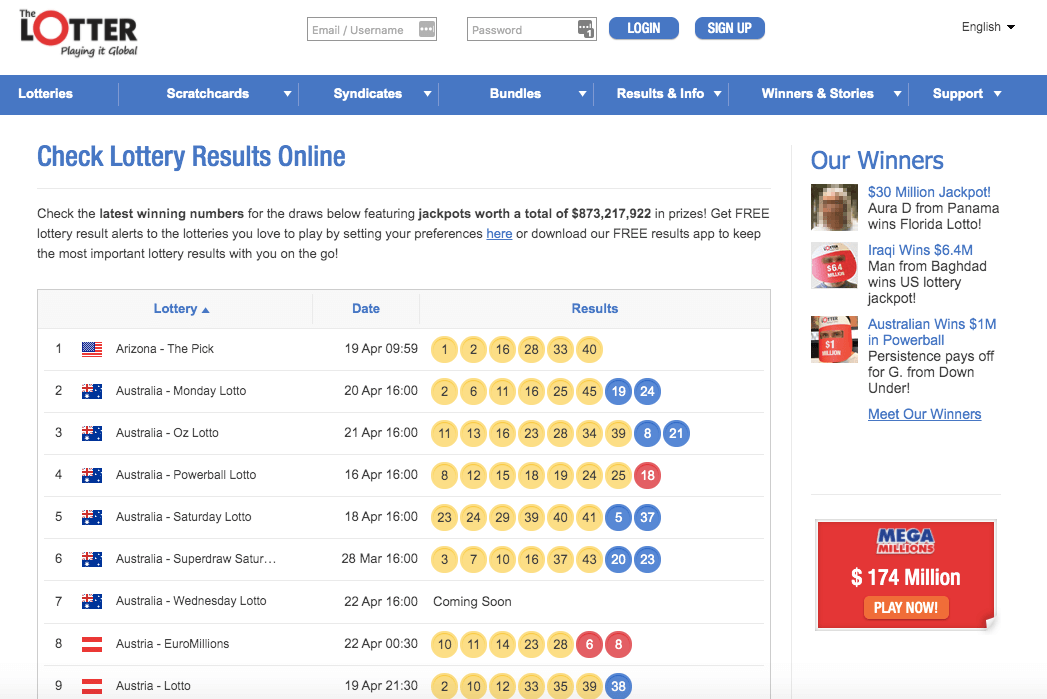 You can check out the image above that shows many theLotter lottery results and winners. There are no commission charges levied by theLotter on any of the winnings. However, a local tax might be deducted from the winning amount, if the lottery is based in a country that levies this tax.
Winnings are major of two types:
Large, locally taxed winnings: lottery jackpots, winnings over $2500, and winnings that are levied with local tax – all come under this category.
Secondary Winnings: Other small winnings other than the ones described in the 1st category.
The secondary winnings are liable to be transferred on the winner's payroll. However, the large winnings need to be claimed directly by the winner. Jackpot winnings are one such option where earnings need to be claimed in person, directly at the facility.
Any other amount that is over $2,500, is collected by theLotter if it's allowed by the local laws. Once collected, all these winnings can then be added to the winner's account.
Verdict – theLotter Review
theLotter is just an online platform where users can purchase lottery tickets conveniently. Thus, safety and security are always maintained – something that most of us look forward to. All personal information is kept private and secure at all times. Legitimacy can further be checked by inspecting the 'Big Winners' section, where all winners are authentic account holders on site.
TheLotter is the ideal place for players who do not have the opportunity to buy some of the well-known international lottery tickets. However, people who just like to purchase local tickets might find the account setup, registration, and verification process a tad bit tedious of a job to perform. TheLotter, however, ensures that all players can have an excellent time trying out their lucks with lotteries and can do so in a safe, private, secure, and fair manner as well.