Pros
1.Availability of three popular fantasy sports over a single platform makes it quite unique

2.Bonus codes offered on daily deposits

3.You can get a bonus of 10-20% over your deposits easily

4.Halaplay is an incredible platform for playing fantasy football league

5.Lesser competition on the platform and hence prospects of winning

6.Easier to create and modify team even for novice players

7.Teams can be modified even after the toss
Cons
1.Despite being a pro player, you may experience some issues while creating the team and joining leagues. This is owing to the bad users interface offered by the platform

2.The grand or monster leagues are too small when compared to platforms such as Dream11

3.The pool amount generally is quite low

4.The player cannot choose a vice-captain. This increases the chances of a clash
Halaplay Fantasy Cricket Review
Halaplay has emerged into a successful fantasy gaming platforms in India. The idea of establishing this platform was conceived by Aman Kesari, Ananya Singhal, Prateek Anand, and Swapnil Saurav. Launched in 2017, Halaplay has become a favorite amongst fantasy gaming enthusiasts. The company managed to secure funds with Nazara Technology and the Delta Group.
Currently, Halaplay lets you indulge in cricket, kabaddi and football gaming on their platform. They offer updates on their Twitter handle and also offer match lineup to the players. Although the company has not enjoyed the same popularity as Dream11, it does offer a bunch of features that have earned it a loyal fan base. It is one of the first platforms to allow a user to make modifications in the team before the match commence. This feature was not offered by Dream11 earlier. They introduced this feature only after watching the popularity of Halaplay soar.
It would not be wrong to call Halaplay a strong competitor of Dream11. The ease of playing promised by the platform has made many users switch to them. The basic concept on which the layout of this fantasy gaming platform is based is more or less the same as other websites such as Dream11 and MyTeam11. If you have basic knowledge of popular sports, then you can leverage it to your advantage using Halaplay. You can make a lot of money if your team puts up a better performance during a match. You can also earn a referral fee of €¹50 on the Halaplay platform through its Refer and Earn Program.
Read this article further to learn more about the Halaplay platform, its incredible offerings and the basics about team creation.
Different kinds of league gaming
Normal vs. Reverse Fantasy League
You have to choose the best performing player in the Normal league. For fantasy league, you will have to select a team with players who may not get the chance to perform better in the game.
Private vs. Public League
All kinds of users have access to public leagues while using the Halaplay platform. However, the private league is meant for you to invite and challenge your friends.
Halaplay Apk App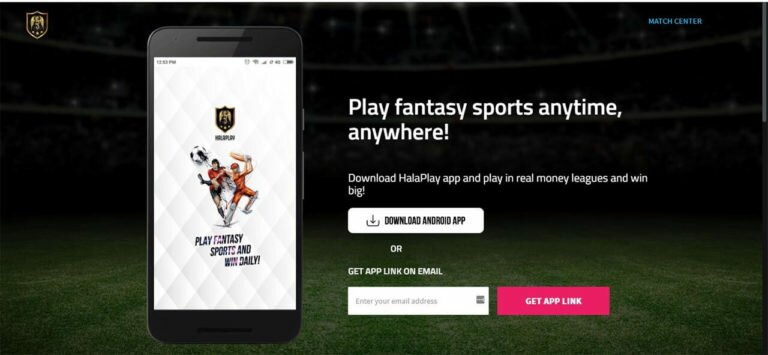 This platform lets you play cash-based games by utilizing your knowledge of the game. Daily Fantasy Sport (DFS) is the shortest and the quickest version of fantasy sports where the competitors can create a team of their own. Anybody can enter a league and walk away with cash rewards if they create a successful team. You do not have to wait for a season to end before withdrawing money that you have earned. You get rewarded after every game provided your virtual team has performed well.
Halaplay app is 100 percent legal in its operations. It is safe to use. You can install it on your device by downloading the apk file available on the official website. You just need to register for creating an account and start winning. Here is a quick tutorial on how to get started.
Steps to download Halaplay apk for Android
Go to the official website and download the apk file for an android system
Click allow unknown sources to provide it access
Signup once the installation is complete
You can use a referral code if you have been referred by somebody
How to grab a bonus of €¹100?
After installing the app, you need to furnish your personal information
You can enter your email address and create a strong password
Choose your username
Verify your mobile number and gain a free bonus for signing up
Enter the Halaplay referral code and start enjoying the bonus of €¹100 you receive
Once your details have been verified, you will be offered €¹50 to start using the platform
You will be offered €¹50 more by the platform once you make a transaction of €¹150 or more
Halaplay Referral Code
You can make money through referrals utilizing the Halaplay app. For that, you need to access the Refer and Earn section. You will be provided a referral link and code. You can share it with your friends, colleagues and family. As soon as they join utilizing your referral link, you will be offered a cash bonus in your account. There is no limit on sending referral links. You can send it to as many people as you want to.
What are the types of fantasy sports offered?
You are offered access to three basic kinds of fantasy sports over the Halaplay platform.
Fantasy Cricket
Fantasy Kabaddi
Fantasy Football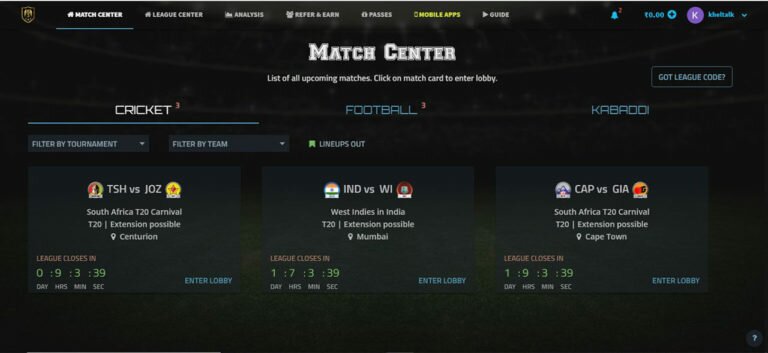 Eligibility criteria for playing Fantasy Cricket
Each platform has its own rules for permitting players to access their offerings. Halaplay has also its own criteria to let players indulge in its offerings.
Should be of minimum 18 years of age or above
Must have a valid email address
Mobile number verification is mandatory
Must have a valid PAN card for verifying ID proof and for tax deductions
Must be an account holder in any bank
What makes Halaplay stand out from other fantasy apps in India?
Halaplay strives to offer the best possible fantasy gaming experience to its users. It stands out in many ways.
A contestant can make revisions to the team before the game actually commences. On some platforms, you can make changes an hour prior to the match schedule
You can choose Captain from your team
You cannot participate in the reverse league. You can, however, pick players that are not expected to perform well in the game. You can increase your chances of winning by picking a weak team. This feature is somewhat different when compared to normal leagues. In Dream11, you can participate only in normal leagues.
You can create private leagues on Halaplay. You can ask your friends to join in and compete with them. The best thing is that you can make 5 percent of the league amount from Halaplay in addition.
You can withdraw your winnings easily into your bank account. You are not required to upload your passbook details.
You can enjoy multiple formats of fantasy gaming on the Halaplay platform
You can also earn by sharing your referral code. You can also benefit from the Affiliate programs.
How to start playing on Halaplay?
The first and foremost thing to do is to choose the match category before entering any live association. A player is permitted to join any format. You can create your own team and have the power to choose your captain. You can track your live matches and the matches that you have already played with much ease. You can track your performance in real-time and also check the leaderboard. You can also analyze your style of playing and compare it with your friends and other players using Halaplay.
Tips for new users on Halaplay
Participate in weekly and daily games
Create leagues and request friends to join in
You can control your league members
Keep a tab on the leaderboard to measure your progress
Analyze your playing style utilizing the feature
How to withdraw winnings?
It is quite easier to withdraw your earnings from the Halaplay platform. All you need to do is follow some simple steps to withdraw your winning amount into your bank account. Click on the Top Right Menu and choose the option to Withdraw. You will now be shown three options: account balance, account verification, and transaction. In order to withdraw any money, you must first verify your account. Tap the account verification option. Submit all the details requested. Update your PAN card details. This is mandatory and the verification may take anywhere between 12-24 hours. Once the verification of the account is done, you can easily withdraw the amount won by you into your bank account.
There is a minimum withdrawal limit set by Halaplay. You need to have winnings of at least €¹300 in order to request a withdrawal. Make sure to enter your bank details correctly. You are required to enter IFSC details and your account number. The amount requested for withdrawal would be credited to your account in 2-3 working days.
Important things to learn about Halaplay App
Both you and your friend would be rewarded with €¹50 after they use your referral code while registering with Halaplay
Both will be rewarded with an additional €¹50 once they do their first transaction amount to €¹100 or more
It is quite simple to invite your friends to use Halaplay platform
There is no restriction on the number of referrals that you can share
The referral bonus will be credited once they get their PAN or other vital details verified after registering on the platform.
Steps to follow to create a cricket squad on Halaplay
You can create a cricket squad over the platform by following some simple steps. You can follow them easily.
Choose a cricket match from the dashboard
Select the option 'My Teams' for creating a new team
Choose 11 players for creating your team. Choose a wicketkeeper from both the squads
You need to make a selection of at least 3 batsmen. You can choose a maximum of 5 batsmen while creating your team on Halaplay
You need to choose 1-3 all-rounders
You need to pick 3-5 bowlers while creating your team
Once you have created your team, you will be required to join leagues. So, look at the options and enter into leagues to play the game.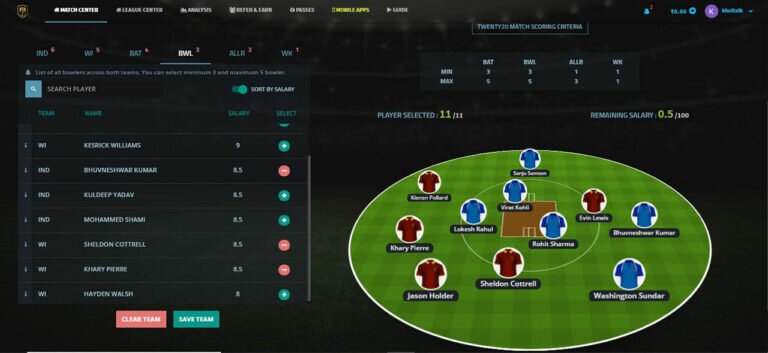 Steps to follow for creating a football team on Halaplay
The steps to create a football team are quite simple. Here are the steps to follow.
Land on the Football Arena for creating your team
You need to select a team of 11 players
Choose 1 goalkeeper for your team
Choose your defenders. You can choose a maximum of 5 defenders
You can select a maximum of 5 midfielders
Selection of 4 forwards is allowed on Halaplay
Select the captain of your virtual team to earn 2x points