Enjoy Summer Jackpot Roulette at 10CRIC Casino and win up to INR 40,000
If you like playing Roulette games, then 10CRIC is a right choice for you this summer as they have launched a new Jackpot Speed Roulette from one of our favorite providers – Ezugi. The best part about this Jackpot Speed Roulette is that you have a chance to trigger a jackpot of at least INR 40,000 every day!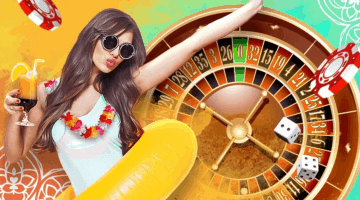 The random daily jackpots at Jackpot Speed Roulette starts from the minimum amount of INR 19,750, but you can increase your jackpot price by every single spin that you play. So, the more you play the bigger your daily jackpot amount!
Usually a side bet amount of INR 0.79 is deducted from each spin of every player to build up the jackpot money, however during this promotion period the side amount on your every single bet on Jackpot Speed Roulette will be covered by 10CRIC Casino. Interesting, right? You get another reason to play and you will get a chance free of cost to hit the jackpot every day!
Try your lucky numbers now!
How to claim Summer Roulette Jackpot
Do not worry it is as easy as placing your bets, follow these simple steps to your chance to claim the jackpot:
Log in to your 10CRIC Account's Live Casino Section from 15th July -30th July.
Bet on Jackpot Speed Roulette, a new game from Ezugi.
That's it! Play the game daily and You could randomly hit the jackpot. The minimum jackpot amount you can win on Jackpot Speed Roulette is INR 40,000 and keep in mind there is no maximum!
Terms and Conditions
The Summer Jackpot Roulette at 10CRIC Casino is valid from 15th July 2020 05:30 IST till 30th July 2020 05:29 IST.
To participate in Summer Jackpot Roulette at 10CRIC Casino, players shall play the Jackpot Speed Roulette table game in the 10CRIC Casino section or 10CRIC Live Casino section throughout the promotion period mentioned above.
The Hello Summer Progressive Jackpots has a varying pot of money which will trigger on a daily basis.
The minimum jackpot money during the promotion amounts to INR 19,750 and can be triggered when the pot size reaches ₹40,000. The jackpot will trigger daily as guaranteed.
A deductible side bet of INR 0.79 towards the jackpot contribution will be settled by 10CRIC Casino during the promotion period.
There is no bar on maximum amount that can be accumulated from this jackpot. The pot size will continue to increase until it is won.
The jackpot will be granted randomly that is it can be triggered and won by any randomly selected settled bet.
Once the jackpot falls, all active users at 10CRIC playing this game will receive a notification.
A new jackpot will immediately start collecting jackpot contributions which can be jackpot can be won on the following day only.
The winner will receive the jackpot amount as a cash prize instantly.
The cash prize awarded as jackpot money will not have any wagering requirements.
The Summer Jackpot Roulette promotion is not allowed to be used in combination with any other promotion going on at 10CRIC casino.
General 10CRIC Terms & Conditions and the 10CRIC General Promotion Terms apply.